Quick Veg Fried Rice (indian Chinese Veg Fried Rice)
Veg fried rice is a good option to cook when expecting quite a large no. of guests. It's an easy recipe, just the chopping of vegetables needs effort and time. But if you are using a food processor it's even easier.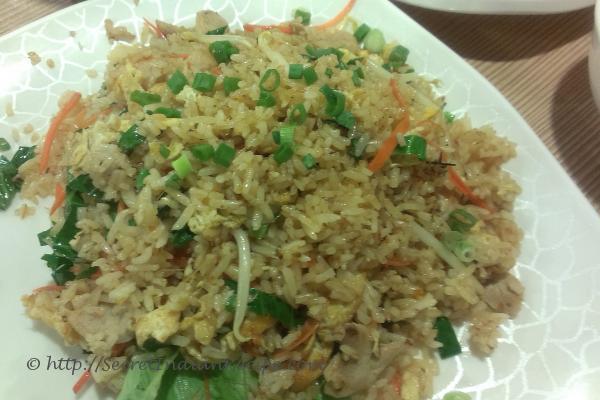 Ingredients:
Rice - 2 cups ( cooked)
Onion - 1 piece ( chopped)
Carrot - 1/2 cup ( finely chopped)
French beans - 1/2 cup ( finely chopped)
Capsicum - 1 piece ( finely chopped)
Green chillies - 2 ( chopped)
Spring onion - 1/4 cup ( chopped)
Soya sauce - 2 tablespoon
Chilli sauce - 1 tablespoon
Tomato sauce - 1 and 1/2 tablespoon
Salt - 1/2 tablespoon or to taste
Oil - 6 tablespoon
Vinegar- 1 tbsp
Garlic - 2 Tbsp (Finely chopped)
Directions:
Take a large bowl and pour the cooked rice. Add soya sauce, chilli sauce and tomato sauce and mix well. Keep it aside for 30 minutes.
Heat oil in a wok or large karahi and add chopped garlic and onions. Fry till it becomes light brown.
Add chopped carrots, beans, capsicum and chilli and cook on low heat for 2 minutes. Check if the vegetables are done.
Add vinegar and toss on high heat
Add the marinated rice, spring onions and salt and mix well.
Cook for a minute on high flame. Keep tossing
Serve hot
Footnotes:
Cook in small quantities if you are preparing in a kadhai. if you take too much rice together it may become mushy. One good way of cooking fried rice at home is to prepare teh veggies and remove aside. Not heat very little oil add a tbsp of veggies and a cup of rice. This way its easy to season the rice well and toss easily.
You can add chopped ginger to make it more spicy.
Always use a large wok or kadhai