Quinoa Poha
I've recreated a twist in the traditional poha breakfast by using some wonderful Quinoa instead. Poha is a wholesome breakfast made in most homes in India. It's quite easy to make up and most often has a mix of spices like Cumin, Turmeric and Mustard seeds used for flavoring. Along with chopped onions, peas and of course chopped coriander for the garnish.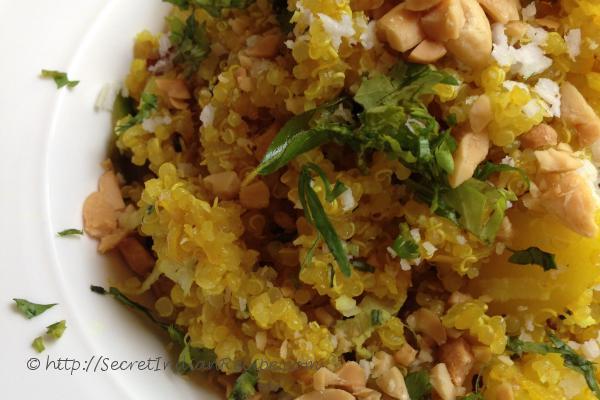 Ingredients:
1 onion
Handful of Curry leaves
1 -2 Green Chilies Chopped
Chopped Coriander leaves
1/4 tsp Mustard seeds
1/2 tsp Turmeric powder
1 Medium Potato (Boiled and cubed)
Crushed peanuts and grated coconut to garnish
2 cups cooked Quinoa
Salt to taste
Directions:
For cooking the Quinoa use 1 measure of Quinoa to 2 measures of water and bring to a boil. Lower the flame and cover with a lid and let it cook till all the water is absorbed. Remove from heat and spread in a plate to cool.
To Make Poha: Heat some oil in a pan.Temper with mustard seeds and curry leaves. Add the onions and fry till transparent. Add green chilies.
Next add turmeric and fry for a minute. Now add the boiled green peas. Add the cooked Quinoa and stir lightly.
Garnish with chopped coriander and grated coconut. Sprinkle crushed peanuts.
Serve hot.
Footnotes:
Squeeze some lemon juice if desired.