Rabri With Chhanar Goja
People from Bengal are fond of sweets. Chhanar Goja is an old traditional sweet of Bengal whereas Rabri is a Royal rich milk preparation. I tried to make a fusion of these two, which is purely Indian and the taste is not less than Bengal Sandesh.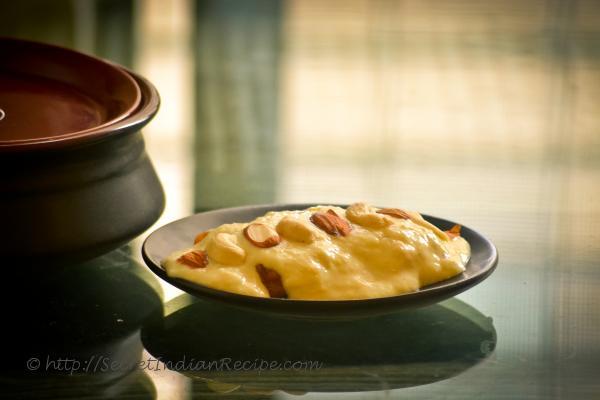 Ingredients:
For Rabri - Milk 1 Ltr
Milk Powder 200gms
Cardamom 4-5 nos
Sugar ( for taste)
Almond 8-10 nos
Pistachio 15 gm
A pinch of Saffron
For Goja - Home made paneer 100 gm
Maida 20 gms
Pinch of salt
Sugar 250 gms
Baking Powder 1/4 tsp
Oil 3 tps
Directions:
For Rabri - Take the milk in a Kadai and heat the milk on a low to medium flame till the milk leaves a layer of cream on top.
Gently move the cream layer and bring it towards the side of the kadai and stick it to the kadai wall.
Soak the almonds and Pistachio in hot water for 15 mins then remove their skin and chop them.
Continuous simmering of the milk will bring the cream on the top and you have to bring and stick it to the side, also stir the milk gently.
After 30 mins when the milk is reduced to half of the amount, then add 4 tsp sugar and a pinch of salt.
Then add saffron and cardamom powder and stir gently.
After 1 Hr,scarp off the entire cream layer and dry milk layer and put those into the thick milk.
Mix all the almonds and Pistachio in the milk.
For Goja - Mix the paneer with Maida, Oil , Baking Powder and salt and make a dough.
Cut them in a small pieces and make those into long vertical shapes.
Shallow fry those paneers pieces .
Make a thick sugar syrup.
Put the pieces of paneer in the syrup and keep it as long as the sugar form a coating around them.
Gently stir so that these gojas do not stick together.
After half and hour, serve the Goja with Rabri on top and garnish with Almonds and Pistachio.