Rabri/rabdi
#Valentinesweet
Rabdi is a popular North Indian sweet dish made of milk. This rich dessert is made by heating sweetened milk until it reduced to half. Layers of cream begin to form and kept on one side of the vessel. Nuts, sugar and flavored ingredients are added to it to give it flavor. Chilled rabdi is a super tasty dessert, relished by several parts of India in festivals or occasions .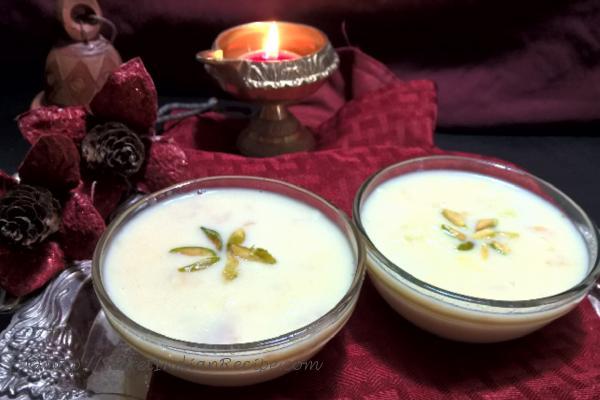 Ingredients:
5 cups of Whole Milk
4 tbsp Sugar or added if needed
1 tsp Cardamom powder
1 tsp Rose water or Kewra water
2 tbsp Pistachio sliced
Directions:
In a thick bottom pan add 5 cups of milk. Heat milk and when it starts to form a layer of cream on top turn on to medium heat.
With a spatula move the cream layer and stick it to the side of the pan. Keep on collecting cream layer on the side of the pan and stirring occasionally the milk to prevent burnt from bottom.
After the milk reduce to half add sugar and cardamom powder. Keep collecting cream layers on the side of the pan. When milk reduce 1/4 quantity of original milk scrape all the layers from the side of the pan and mix it to the milk. Add rose/kewra water and stir gently.
Serve chilled with chopped pistachios on top.
Other Indian Recipes that you may Like !