Radha Ballavi
#RegionalUnknownRecipe Apart from "Luchi" another thing which a bong enjoys with spicy Aloo-dum is "Radha-ballavi", a variety of stuffed Puri. And it's another favorite breakfast for which I have a constant obsession. Puri ,an Indian flat fried bread served with Potato curry is all time favorite combination across regions in India.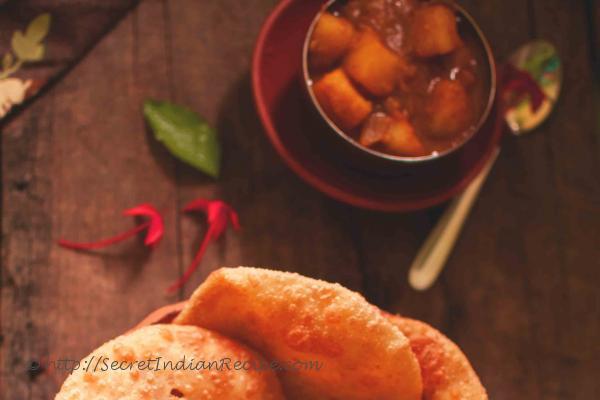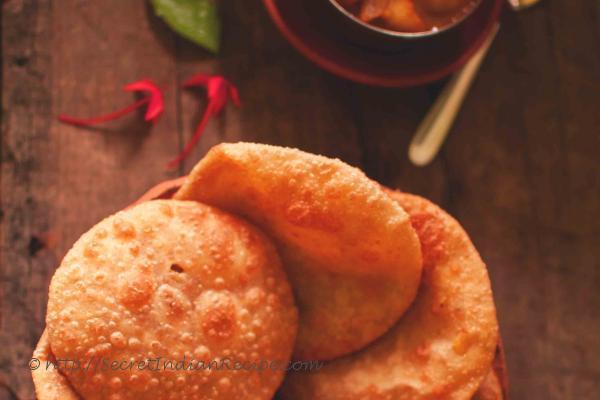 Ingredients:
1 cup All purpose flour
1 cup Wheat flour
1/2 cup Chana dal ( Split Bengal gram)
1 tsp Chili paste
1 tsp Asafoetida
1 tsp Ginger paste
Cooking Oil
Salt to to taste
Water
Directions:
Soak dal for 2 hour .Drain and make a paste of it .
In a pan heat 2 tsp oil. Add 1/2 tsp asafoetida, ginger paste, chili paste. Fry for 30 sec. Add dal paste, salt to it and fry at slow flame for 2 minute till the mixture is dry. Cool it ,your stuffing is ready.
In a bowl mix flours, 1/2 tsp asafoetida, 1/4 tsp salt and 1 tbsp oil. Adding warm water make a soft dough. Let it rest for 10 minute.
Divide the dough into 12 equal part. Stuff each ball with around 1 tbsp prepared paste. Roll into circular discs like poori. Be careful the stuffing should not be out.
Heat oil in a Kadai, fry one by one on medium flame on both side. Serve hot with Spicy Aloo Dum.