Radish And Spinach Curry
The benefits of Radish and Spinach will make you prepare this receipe. The unique combination but with same health benefits made me try this receipe and it made wonders.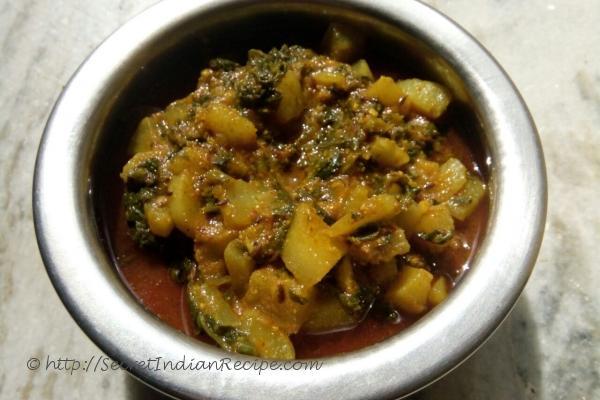 Ingredients:
Mooli : 4
Spinach : 2 to 3 bunches
Green chillies : 2 to 3
Garlic : 4 pieces
Dhaniya Powder : 1/2 teaspoon
Red chilli powder : 1/2 teaspoon
Turmeric powder : 1/2 teaspoon
Salt as per the taste
Directions:
Cut the Radish into medium size pieces, cut the leaves of Spinach and radish leaves as well . Cut 2 green chillies and scrape the 4 garlic pieces. Keep the cooker in the low flame, add little oil, once the oil is heated then add the jeera , green chillies and garlic. then add the radish and spinach together and stir it well. Add the salt as per the taste, red chilli powder, Dhaniya powder and Turmeric. Close the lid of the cooker. After some time we will get the whistle and keep the cooker until 4 whistles and put off the flame. After some time remove the curry in a bowl and it is ready to be served.