Radish / Mullangi Chutney
Radish has a peculiar taste that some do not like while some adore it. This recipe makes radish appealing to all so worthy of noting it down. This has been a revelation for me since I was one amongst those who don't enjoy radish. The white texture of the chutney looks pretty neat too and can be a real good substitute for other chutneys with Idli, Dosa etc. Thanks to my friend who introduced me to this recipe.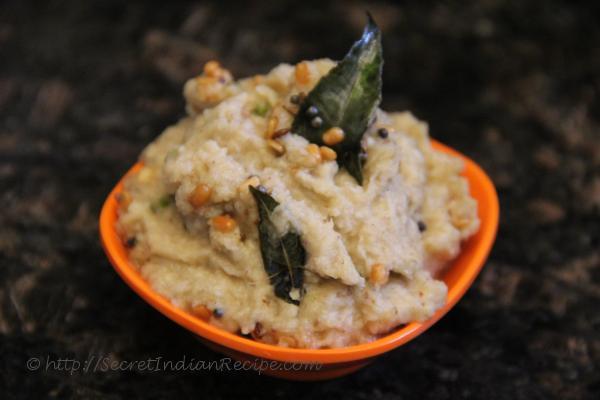 Ingredients:
Mullangi / Radish – one and half, peeled and chopped
Fresh coconut – one-fourth cup
Green chilli – five (depends on the spice level)
Salt – to taste
Jeera / cumin – half tsp
Oil – one tsp
Tamarind – one inch (soak in hot water for few mins)
Jaggery – half tsp
Ingredients for tempering Oil – one tsp
Jeera / cumin – half tsp
Mustard seeds / avalu – half tsp
Urad daal / minapappu – one tsp
Curry leaves – few
Asafoetida – a pinch
Directions:
In a pan, add half tsp oil, jeera seeds and green chilli. Fry them. Transfer to a mixer jar.
To the same pan add chopped radish . Cover it and cook until soft ( 5 mins on a medium flame. Make sure that radish doesn't turn brown.). Turn off heat. Let it cool down. Transfer to mixer jar.
Now add jaggery , coconut , tamarind and salt. Grind them with very less water. Transfer to a bowl. Mix well.
In a hot pan, add oil, jeera seeds, urad daal, mustard seeds, curry leaves and asafoetida. Fry until mustard seeds crackle. Add to the chutney. Enjoy with hot rice, dosa, chapathi, idly etc