Ragda Pattice ( Potato Patties Served With Flavorful Peas Curry)
'Ragda' is the curry part of the dish made up of dried white peas and 'pattice' is basically a kind of potato cutlet. Ragda pattice is actually a street food snack, but it can also be a full meal in itself. The ragda and pattice are prepared separately and are assembled just before serving. This recipe was shared by a friend and it definitely is one of the best I have tried so far.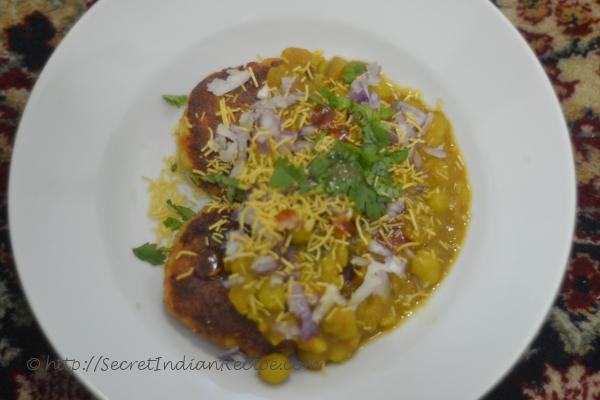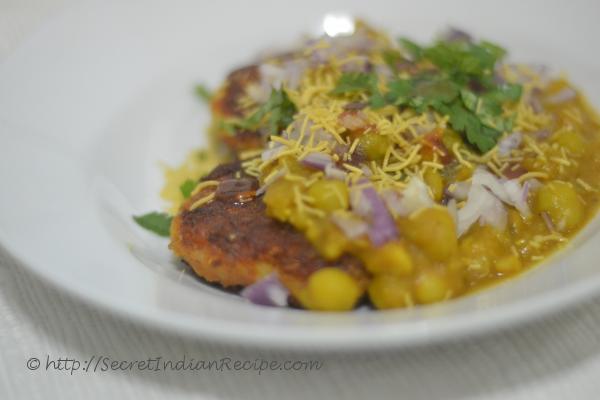 Preparation Time:
Overnight soaking + 15 mins
Ingredients:
For Pattice::
Potatoes: 10 Boiled and grated
Cornflour or Besan: 2 Tbsp
Salt: to taste (About two pinches)
For Ragda::
Dried white peas (Vatana): 1 Cup
Onion: 1 finely chopped
Turmeric powder: 1/2 tsp
Ginger Garlic paste: 1/2 tsp
Green chili paste: 1/4 tsp
Water : for pressure cooking (3 to 4 cups)
Salt: 1/4 tsp or to taste
Mustard seeds: 1/2 tsp
Assembling::
Green Chutney: for garnishing (9-10 Tbsp)
Sweet Imli chutney: for garnishing (9-10 Tbsp)
Onion: 1 finely chopped
Tomato: 1 finely chopped
Coriander: 1/2 bunch finely chopped
Lemon juice: 3 to 4 Tbsp
Nylon Sev: 1 cup
Chaat Masala: 3 Tbsp
Oil: 1 cup ( for shallow frying and cooking)
Directions:
FOR RAGDA::
Soak the peas over night, next day, pressure cook the peas with 3 to 4 cups of water, turmeric and salt. Let it cook upto 4 whistles or till the peas are nice and soft.
In a kadhai, heat 3 tbsp of oil, when hot add mustard seed (rai), when it starts to splutter, add one finely chopped onion, salt to taste and saute till soft and pink
Add ginger garlic paste, chili paste and saute till all combines well
Transfer the boiled peas into the kadhai and mix well. Add water if required (The consistency should be as of a thick curry or baked beans)
Let it cook for 5 mins, turn of the heat and keep ragda aside
FOR PATTICE::
Combine, grated boiled potatoes, cornflour or besan and pinch of salt
Mix well and make 10 equal rounds of the potato mixture. Slightly press on top and flatten the patties
Heat 5-6 tbsp oil in a non stick pan. Shallow fry the patties till golden brown on both sides
ASSEMBLING::
Take two patties in a plate. Pour a ladle full of ragda on top
Drizzle 1 tsp each of the green and sweet chutneys
Top up with some onions and tomatoes (about 2 tsp each)
Sprinkle chaat masala and garnish with coriander
Squeeze lime juice on top, and finally load it with 3 to 4 tbsps of sev
Serve immediately
Footnotes:
You can view my Green Chutney Full recipe here: http://secretindianrecipe.com/recipe/tikhi-hari-chutney-spicy-green-chutney
You can view my Meethi(sweet) chutney Full recipe here: http://secretindianrecipe.com/recipe/mithi-khajoor-imli-ki-chutney-dates-tamrind-sweet-chutney
You may also drizzle sweet or sour yogurt on top