Ragi Flour Kozhukattai ( Finger Millet Flour Dumplings)
My #SteamedRecipe is Ragi Flour Kozhukattai (Finger Millet Flour Dumplings). This ragi flour kozhukattai is easy to prepare and makes a healthy snack for kids and also for their snacks box. And it's a great way to use up ragi flour and jaggery. Millets are highly nutritious, non-glutinous and not acid forming food. Hence they're soothing and easy to digest. Make this different kozhukattai and serve to your family and stay healthy.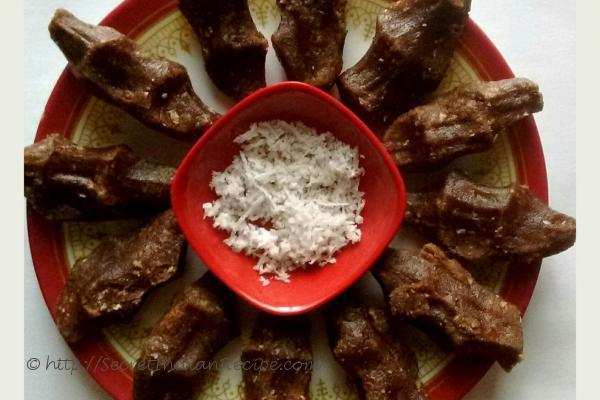 Ingredients:
1 cup Ragi flour ( Finger millet flour)
1/2 cup rice flour ( idiyappam or puttu flour)
3/4 cup powdered Jaggery
3/4 cup grated Coconut
2 tbsp roasted Sesame seeds
1/2 tsp dry Ginger powder
2 tbsp Ghee
Directions:
Take a white cloth and place the ragi flour in the cloth and slowly tie like a bag. Place the bag on the top of the idly plate and steam cook for 10 - 15 minutes.
Untie the bag and break the flour without any lumps. Allow it to cool completely.
Heat a pan and dry roast the rice flour for 1 minute. Then add it to the ragi flour and mix well.
Heat ghee in a pan and fry the coconut until it turns golden brown and add it to the flour.
In a mixing bowl add the flours, fried coconut gratings, roasted sesame seeds and dry ginger powder.
Now dissolve the jaggery with 1/2 cup of water and bring it to a boil. When it completely melts, add it to the mixed flour little by little. Now mix them with a wooden ladle. When it is warm, mix them with your hand evenly and make a smooth dough.
Then divide them into equal balls and press them in the centre to make kozhukkattais. Place the kozhukkattais in the greased idly plate and steam cook for 10 to 12 minutes.
Delicious, healthy ragi flour kozhukkattai is ready. It will be good for 2 days in room temperature.
Footnotes:
Steaming the ragi flour is very important in this recipe. Steaming process helps to keep the dumplings soft. You can also use palm jaggery instead of jaggery.