Ragi Idli (finger Millet Steamed Cake)
Ragi or finger millet is the staple diet of people in Karnataka. They have it in the form of dumplings, porridge, dosas or idlis. Ragi is considered healthy because it is a rich source of iron. It also provides cooling effect to body hence is consumed a lot in summers. Ragi is also an ideal baby food. This idli can be given to babies over 8 months.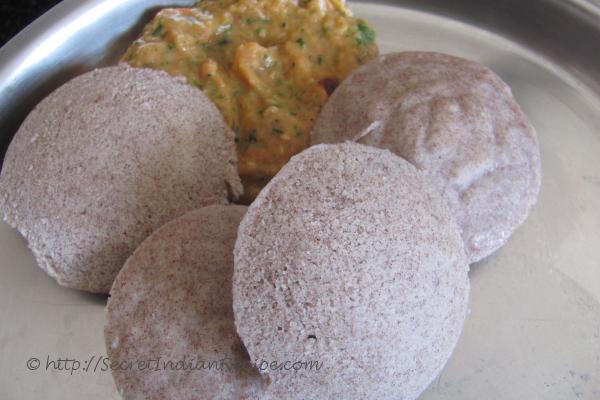 Ingredients:
Urad dal- 1/2 cup
Raw rice- 1/4 cup
Ragi Flour- 6 tbsp
Fenugreek seeds- 1 pinch
Salt- to taste
Water- for grinding the batter
Directions:
Soak the rice and urad dal in two separate bowls after washing them. Add fenugreek seeds to the bowl in which the urad dal is soaked.
Soak the rice and dal for 4 hours. Grind the rice and dal separately using very little water and mix them together when they are both are ground.
The batter should be thick and do not add water. Let the batter ferment for a minimum of 8 hours preferable overnight. Grind in the evening so that you can let the batter ferment overnight.
Add salt and ragi flour before steaming the idlis. Let the batter rest for 30 minutes. Add 1/4 cup of water or even less the batter should not become too watery but should not be too stiff either.
Grease the idli plates and pour a ladle each on to the idli plates. Steam the idlis for 10- 12 minutes over medium flame in an idli vessel. Let it rest after it is cooked.
Unmold the idlis after 5 minutes and serve warm with chutney or sambar.