Ragi[finger Millet] Buttermilk Chila
Ragi or finger millet is one of the most nutritious and healthy cereals loaded with calcium, proteins, iron and other minerals .When consumed as a chila that too with buttermilk it makes a great weight reduction recipe. Little bit of onions, ginger & chili adds flavor to this wonderful chila. Try this...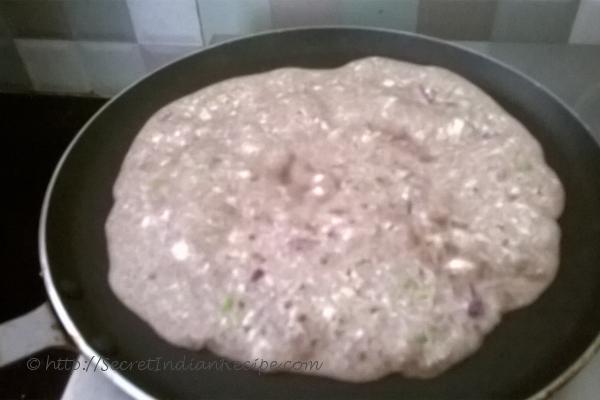 Ingredients:
Ragi Flour 1cup
Rice Flour/Samolina : 2 tbsp
Butter Milk : 2 cups [ to make a batter of ragi flour]
Green Chili Finally Chopped : As per taste
Ginger Finally Chopped : 1/4 tsp
Onions Finally Chopped : 3-4 tbsp
Salt : As Per Taste
Vegetable Oil: For Cooking
Directions:
Mix buttermilk in ragi flour slowly & whisk thoroughly using a whisker. Now add rice flour/ semolina & again mix it thoroughly. There should not be any lumps formed.The batter should not be too thin or thick. It should be of pouring consistency.
Add chopped onions,ginger , chili & salt to the batter. Keep it aside for 30 min. The batter will acquire all the flavor.
Heat a non stick pan or griddle. Once again mix everything well .Sprinkle 1 tsp of vegetable oil . Spread batter in round shape like chila on pan.Cook for 3 min & also sprinkle few drops of oil on chila.
Now turn it upside down. Cook on the other side for 2-3 min & its done.
Serve hot with you favorite chutney or sauce.
Footnotes:
Pan or Griddle should be properly heated or else chila will stick on it & break while turning sides.
If you are using a regular tawa then apply oil generously for first chila.
The given quantity is sufficient for making 5-6 chilas.