Rajasthani Gatte Ki Sabzi ( Chickpeas Flour Dumplings Cooked With Spices)
This popular Indian curry recipe originates from the state of Rajasthan. The main ingredient is besan, which is added with spices to make dumplings and then cooked in a spicy curry. The best part is the gatte i.e the dumplings, are boiled in water to cook and not fried so it actually has very less oil than other besan based recipes.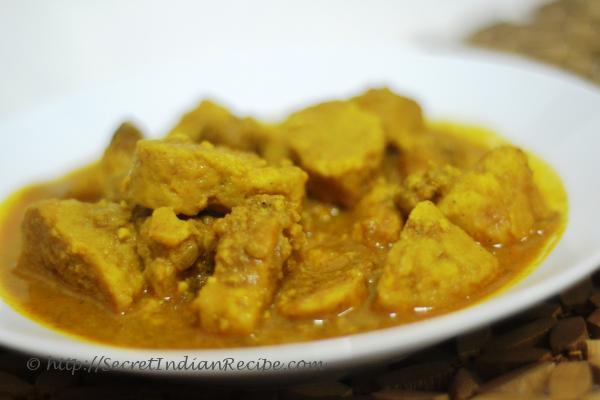 Ingredients:
( For gatte)
Besan ( chickpea flour) - 1 cup
Garlic paste - 1 tablespoon
Red chilli powder - 1/2 tablespoon
Hing ( asafoetida) - 1 pinch
Turmeric powder 1/2 tablespoon
Salt - 1/2 tablespoon
( For curry)
Garlic paste - 1 tablespoon
Ginger paste - 1 tablespoon
Onion paste or finely chopped - 2-3 tablesppon
Red chili powder - 1/2 tablespoon
Cumin Powder - 1/2 tablespoon
Coriander powder - 1/2 tablespoon
Salt - 1/2 tablespoon
Beaten Curd - 4-5 tablespoon
Garam masala - 1/2 tablespoon
Oil - 6- tablespoon
Directions:
Take a bowl and add all the ingredients for making gatte. Add little water and knead it into a stiff dough.
Make cylindrical tubes of this dough and put into boiling water. Boil for 2-3 minutes.
Take out the besan tubes, drain excess water and then cut them into small rounds.
Heat oil in a karahi and fry the gatte till they turn light brown.
In the remaining oil add onion paste followed by ginger garlic paste. Fry the masala till it leaves oil.
Now add cumin powder, red chili powder, coriander powder and fry for 1 to 2 minutes. Add water, gatte, garam masala, beaten curd and salt and mix well.
Put a cover and cook on low heat for 2 minuets more. Gatte ki sabzi is ready to be served.
Footnotes:
You can add coriander leaves at the end to enhance the taste.