Rajasthani Missi Roti (rajasthani Spicy Paratha Made With Whole Wheatflour And Gram Flour)
Rajasthani Cuisine has a unique rustic taste and thus people who love vegetarian food, especially like Rajasthani food. Missi roti is one of the well known Rajasthani food and is actually part of their daily meal. The first time I had this was in one of my colleague's home who belongs to Jaipur. She referred to it as ' Rajasthani Roti' , I learnt it from her and made it couple of times in my house but it is only few weeks back that I came to know it is actually called ' Missi Roti' from the internet. As it is a little spicy and is loaded with ghee, I recommend to serve it with any curry preparation and pickles.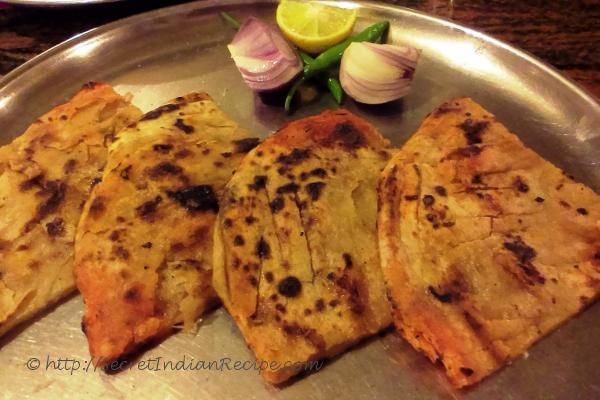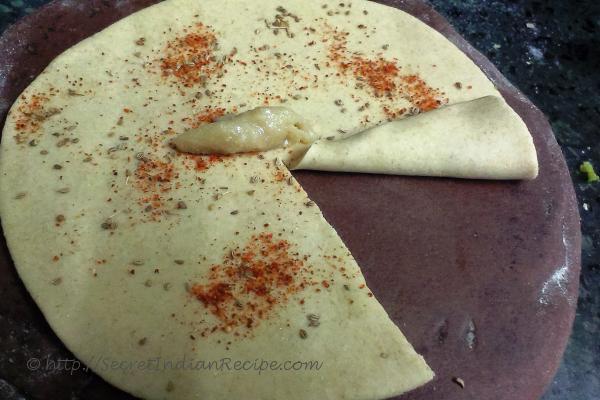 Ingredients:
Atta (Whole Wheat flour) – 1 cup
Besan (Gram Flour) – ½ cup
Ajwain (Carom seeds) – 1 tablespoon
Red chilli powder – ¼ tablespoon
Salt – To Taste
Ghee – 6 Tablespoon
Directions:
Combine whole wheat flour and gram flour in a large bowl. Add two tablespoon of ghee, salt and ajwain and mix
Then slowly add some water and make the dough. Let it rest for about 15 mintues.
For making the missi roti, take a handful portion from the dough and roll it into a ball. Dust it with some dry flour and then roll it over the rolling spin into a small chappati. Apply some ghee and red chilli powder on one side.
Now take a knife and make a vertical cut from the centre of the roti to its circumference as shown in the picture.
Lift the roti from one side of the cut and then roll it up spirally. Press it lightly with your palm. Again dust some dry flour and roll it like a chappati. This time you will be able to see fine circular lines over the chappati.
Heat a pan over the gas and put the Missi Roti. Cook on medium heat till both the sides are done.
Finally apply some ghee and serve hot with any Curry Recipe.