Ram Laddu(no Deep Fry,moong Dal Dumplings Delhi Street Food)
Ram laddu ,a Delhi street food with a twist.Yes….Making of healthy street food…You heard it right.Street food that too healthy.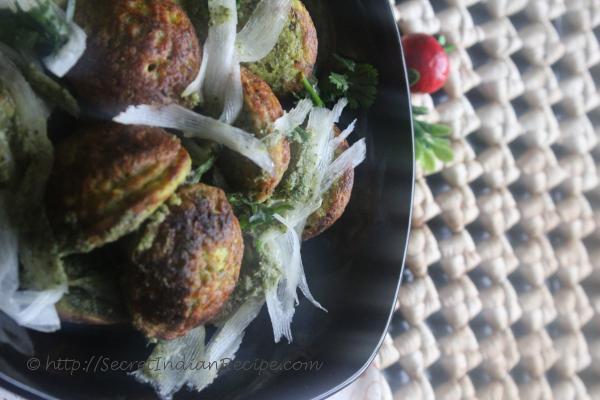 Ingredients:
Moong dal with skin 1 cup Chana dal(chick pea flour) 2 tbsp Ginger garlic paste 1 tsp Green chillies chopped 2 Asafoetida (hing) a pinch Cumin seeds powder ½ tsp Salt as per taste Oil ,White Radish grated ½ cup Coriander leaves
Directions:
1.Soak washed lentils in enough water overnight. 2.Drain the lentils and add all the spices and blend it in blender to have a coarse paste.Batter to use pulse mode so that the batter wont be runny. 3.Heat Appe pan adding few drops of oil in each cavity. 4.Pour spoonful of batter in each cavity.Let it cook for 2 mins. 5.Flip the laddus and cook another side too pouring some oil in each cavity. 6.Take laddus in aserving bowl,Garnish with grated white radish,green chutney,coriander leaves,sprinkle some chaat masala and serve.
Other Indian Recipes that you may Like !