Ram Ladoo(lentil Fritters With Chutneys)
Nostalgia of my Delhi days comes to me on certain days and with my daughter I am experimenting all sorts of finger foods these days. We have broken our cardinal rule of not frying anything in the house for her sake and this is slowly creeping into our daily life. We also have started snacking over weekends and I try to make a different snack every time. So when the discussion on Ram ladoos came up hubby dear said he never had this in Delhi. And considering the number of years he spend in the North of India this surprised me, so came the ram ladoos for tea time the next day. I have made the ladoos a bit flat for my daughter and they are sized small for the same reason. We don't eat radish so I topped our ram ladoos with onion slices, chaat masala, tamarind chutney and coriander chutney. For photographic reasons I have not dunked the ladoos in the chutneys but while serving you need to be generous with the chutneys. #Chaifingerfood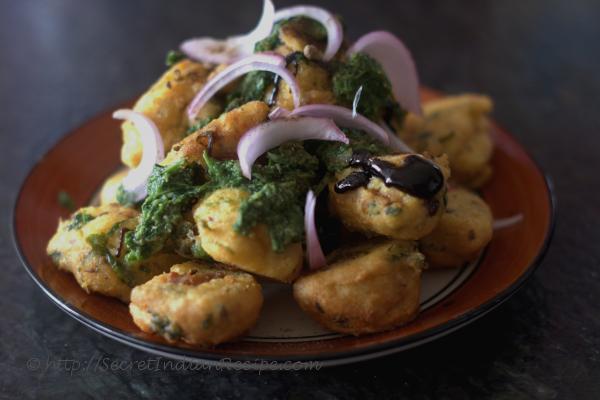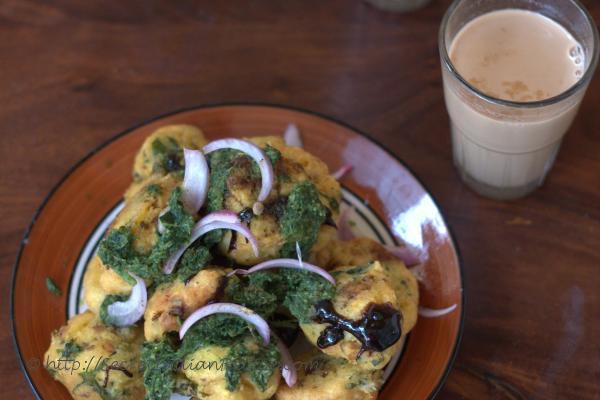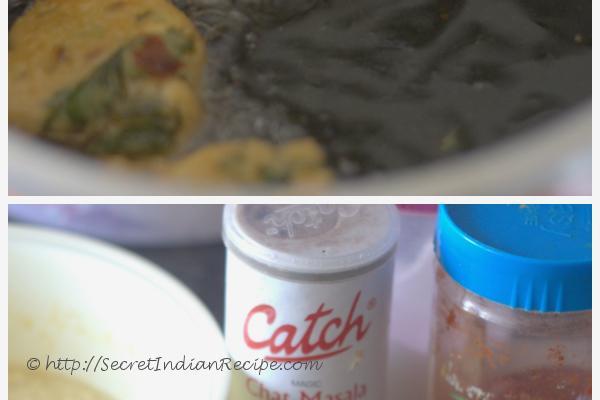 Ingredients:
Split green gram lentils- 1 cup
Split Bengal Gram- 1/2 cup
Chopped Coriander leaves- 4 tbsp+ for garnish
Ginger- 1/2 inch piece
Asafoetida- 1/2 tsp
Cumin seeds- 1 tsp
Chili powder- 1/2 tsp
For Tamarind Chutney
Tamarind- 200 g
Jaggery- 100 g
Chaat Masala- 1 tsp
Roasted cumin seeds- 1 tsp
Dried ginger- 1 tsp
Salt- to taste
Chili powder- 1 tsp
Water- 1 cup
For Green Chutney
Garam masala- 1/2 tsp
Coriander leaves chopped- 1 cup
Green chilies- 2
Cumin powder- 1/2 tsp
Chaat masala- 1/2 tsp
Salt- to taste
Lemon- 1
Sunflower oil- for frying
Directions:
Soak the lentils after washing them twice in 3 cups of water for 5-6 hours.
Meanwhile prepare the green chutney and Tamarind chutney. For the green chutney, grind the coriander leaves, green chilies, ginger, cumin powder, chaat masala and salt in a grinder.
Grind the chutney to a fine paste and set aside in a bowl. For the tamarind chutney, boil the tamarind in 1 cup water first.
Strain the tamarind and return it to the stove. Add the dried ginger powder, roasted cumin powder, salt, chaat masala, chili powder and jaggery and let the chutney simmer over medium flame.
When the jaggery dissolves, and the chutney gets thick switch off the flame and transfer the chutney to a bowl.
For the ram ladoos, drain the soaked lentils first, and grind the lentils to a smooth paste. It should be a bit thick in consistency.
Add the cumin seeds, asafoetida, chili powder, chopped coriander leaves, minced ginger and salt to the ground batter and mix thoroughly.
Heat the oil in a wok and when the oil is smoking hot, drop the batter using a table spoon. Fry the ladoos over medium flame till they are golden.
Drain the ladoos using a slotted spoon onto a napkin. Once drained, set the ladoos onto the bowl or plate for serving.
Top the ladoos with green chutney and tamarind chutney. Sprinkle some chopped onions, chaat masala and chopped coriander leaves.
Serve the ladoos with warm tea.