Rasa Vadai (black Gram Fritters Dunked In Spiced Tomato Curry)
Vada is a fritter made from black lentils often served with a chutney or as a side kick to the idli, dosa and sambar combo. Apart from these the vada is also served dunked in curd known as dahi vada or thayir vada. Vada again is served dunked in piping hot sambar and is called sambar vada. The rasa vadai is the third combination and not many restaurants serve this. In this preparation, vadai is soaked in rasam and served. To prepare this as such is a pain because on a working day frying vadais and making a rasam is not something anyone would like to do when one looks for easy breakfast options but since my daughter loves rasam with rice and vadai as it is I made both these dishes on the same day. While she had her vadais all alone we had the vadais dunked in rasam.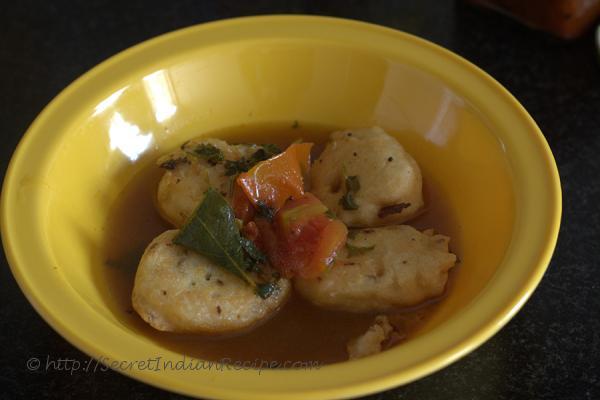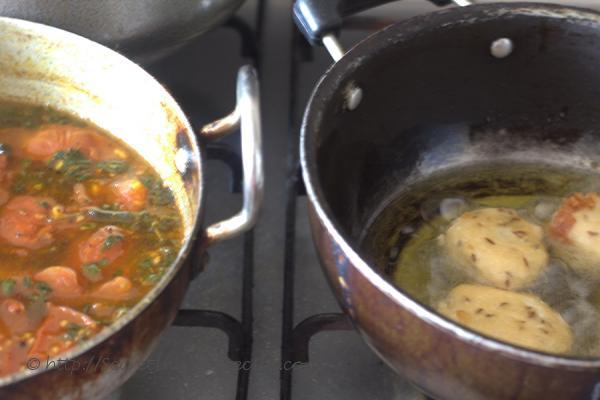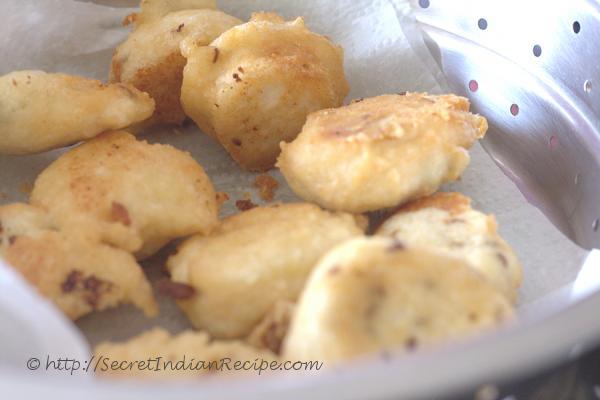 Ingredients:
Black gram- 2 cups
Salt- as required
Onion- 1
Curry leaves- 1 sprig
Tomatoes- 5
Tamarind extract- 1 tbsp
Garlic- 5 cloves
Whole pepper- 5
Cumin- 1 tsp
Turmeric powder- 1/2 tsp
Asafoetida- 1/2 tsp
Coriander leaves chopped- 4 tsp
Ginger- 1 inch piece
Water- 3 cups
Oil- 2 tsp + for frying vadais
Dry chilies- 4
Mustard seeds- 1/2 tsp
Ghee- to garnish before serving (optional)
Directions:
Wash and soak the black lentils overnight. Grind it to a fine paste with very little water the next morning.
Finely chop the onions and curry leaves and add it along with salt to the batter and mix well.
Heat oil to fry the vadais in a wok. Scoop the batter roughly like a ball and drop into the oil when the oil is hot.
Fry till golden brown and drain using a slotted spoon when the vadais are brown on both sides.
For rasam wash and chop the tomatoes. Cook the tomatoes with 1 cup water, salt , asafoetida and turmeric powder.
When the tomatoes start to wilt switch off the flame and let the tomatoes cool down.
Mash the tomatoes once they have cooled down and break them down completely. Add remaining water and set the wok back on fire.
Let the tomatoes boil again and add the tamarind extract to it. Meanwhile for the tempering take a pan and heat the 2 tsp oil.
Add mustard seeds and curry leaves. When the mustard splutters, add dry chilies.
Soon after this, add minced ginger and garlic and saute till they brown. Add a pinch of asafoetida again and transfer this tempering to the wok with tomatoes.
Let the rasam simmer with the tempering and check the spice levels. if you want it more tangy, add a little more tamarind.
Now place the vadais in a bowl and pour the rasam over it. Let the vadais soak in the rasam for 30 minutes. Serve with some ghee drizzled on the rasa vadais.