Rasabali (oriya Sweet Dish)
#MyRegionalDiwaliRecipe
It is a sweet dish from Odisha, India. It is offered to Baladevjew, and originated in the Baladevjew Temple of Kendrapara. It is one of the Chapana bhoga of Jagannath temple.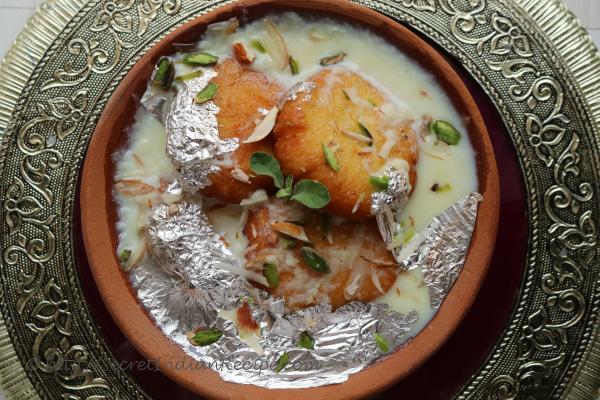 Ingredients:
1 litre Full cream Milk
2 tsps Vinegar
1/4 Tsp of Cardamom powder
1 tsp Semolina
1 tsp Wheat flour
3 tbsp Sugar
oil for frying
2-3 drops of Kewra water
1 tbsp sliced Almonds and Pistachios
Silver werq and Tulsi leaves for garnish
Directions:
Warm 1/2 litre milk, once it comes to boiling point add vinegar and switch off the flame. Immediately the milk will start curdling. You will see in 2 minute the chena being separated from the whey.
In a muslin cloth drain the water and hang the chenna for an hour so that the water drains out completely. To get rid of vinegar smell you can cold bath the tied chenna once or twice before hanging it.
In the mean time start boiling 1/2 litre milk adding sugar to it till it reduced to almost half of the original quantity. Add cardamom powder and mix. Remove from heat.
Now take the chenna, samolina ,wheat flour and knead it smoothly for 3 to 5 minute. Now divide into 7 equal sized ball ,flatten each ball on your palm into a circular tikki shape.
Heat oil and deep fry them. Add fried cottage cheese into thick milk. Add sliced almonds and pistachios.
Garnish with silver verq and Tulsi leaves. Let it cool completely. Serve with love.