Rasgulla
It's an overkill to define beloved Rosogullas as sweet cheese balls in sugar syrup dessert!
If like me, you have always wondered that the art of making indian sweet dishes should be left for the overweight halwaiis, than this recipe will change that notion! An easy to make, tried multiple times, this will definitely yield the best home made rasgullas for you- provided you follow word by word! As always, try this and feel free to drop in comments/ improvement suggestions!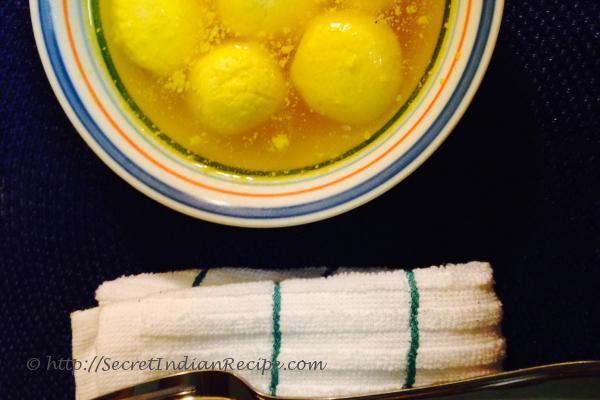 Ingredients:
Milk-1ltr
Sugar-200 gms
Vinegar-6tsp (preferred)or Lemon-1 for milk curdling
Yellow food color(optional)-1/2pinch
Saffron-few strands(optional)
Rose water (optional)-2tsp
Water and cotton/muslin cloth
Directions:
In a heavy bottom pan, add 2tsp water and heat, add the milk now and bring it to a boil-water added before helps the milk to not stick to bottom ( supposedly!)
Lower the heat, add Vinegar/lemon to curdle the milk.Drain the coagulated milk in a cotton/muslin cloth-drain the excess water- do not squeeze too much as this will dry the cheese and make the gullas hard.Wash the cheese under running water a bit to let the tangy vinegar go away.
Let the cheese cloth sit under some heavy weight for sometime. Meanwhile, in a pressure cooker take 60% water and add 100 gms sugar on high heat.
Take out the cheese on a plate and knead it well with your palm, it should be plain and crackless-knead for about 3-4mins. Make small balls out of it.1inch diameter should be fine- they will swell up twice their size(add food color to the dough if using)
Add the balls slowly in pressure cooker (max 8 at a time) and close the lid, and give 1whistle on high heat- switch off and let the cooker cool down naturally for 10-15 mins before opening the lid!
After it's cooled down, take out the balls and keep aside. Heat the left out water in cooker and add the remaining sugar to it to make the final syrup add the saffron strands and rose water to it.
Once the syrup is cold enough, pour it on the balls and let it soak up for overnight! A real patience tester but worth the wait! Serve chill after a nice heavy meal!
Footnotes:
You will have loads of sugared water after the balls are cooked in pressure cooker.. While it can be used next day in Halwa or some other dishes- if you want to avoid that you can use little lesser water- but beware that this will yield flat looking rasgullas.. PS you can increase or decrease sugar in the syrup as per taste- keeping in mind that the amount shouldn't be too much so that the syrup is very thick and can not be absorbed easily by the delicate cheese balls!