Rasmalai
Rasmalai or 'Rosomalai'(in bengali )is a very popular Bengali sweet, now it is also popular through out the India and also in Pakistan and Bangladesh. In Rasmalai, flat shaped spongy rasgullas or dumpling made with paneer or cottage or ricotta cheese are soaked in sweet, thickened, chilled and saffron flavored milk.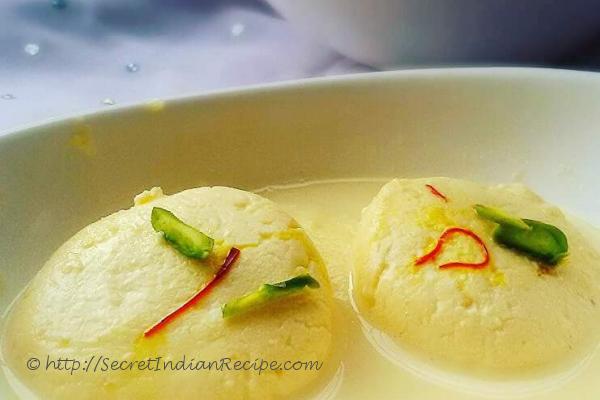 Ingredients:
Cow Milk- 2Ltr+1 ltr
Lemon Juice-1 full lemon or Vinegar -2tsp (if required add more lemon juice or vinegar )
Suji or Semolina-1tsp
Water-3cups
Sugar-2cups
Rose Water-1/2tsp+1tsp
Sugar -1/4cup..can add more if required
Cardamom powder-1/4 tsp
A pinch of saffron soaked in 1tsp warm milk
Saffron Strands -few
Almonds(soaked and peeled)-10 cut into thin sliced Cashew nuts -5 (sliced ) Pistachios or Pesta-5(sliced)
Directions:
Take a heavy bottomed vessel, add milk.
Bring it to boil and keep stirring to avoid burning of milk..
Once the milk comes to boil, simmer the gas, start adding the lemon juice and keep stirring( if required,add more lemon juice) cook for few seconds until the milk solids gets separates from the whey. Switch off the heat.
Pour this curdled milk to the already lined muslin cloth over a strainer. Squeeze out all the whey water. Then rinse chena under the tap water as much as possible....if you do not rinse the chena or paneer proper. .you will get the smell of lemon while having it.
Now hang the cloth along with chena or paneer for 30 minutes. Then place a heavy weight on chena for another 30 minutes. It will help to squeeze more water from chena or paneer.
After that, remove the chenna or paneer from the cloth. The chena or paneer should not have too much moisture nor be too dry.
Take the paneer in a wider plate Add 1 tsp sooji or rava or semolina, adding sooji or semolina helps to bind the mixture.
First mix the sooji with chenna and then begin to knead for 5 minutes Knead it well with your palms for 5 to 6 minutes to get smooth texture.
This kneading process is very important and it decides the texture of rasmalai. Divide the chena or paneer or cottage cheese into equal portions and roll into balls and then press lightly to make patties, taking care that there are no cracks. Prepare all the rasmalai patties in this way.
In the mean while make sugar syrup and for this take a large pan, take 2 cups sugar and 3 cups water....and bring it to boil.You have to use a large pot or pan so that there is enough space for the rasmalai to cook and increase in size.
Mix and continue stir the sugar syrup until it will be dissolved....do this process on medium flame.
When the sugar syrup will start to boiling. ..drop Rasmalai Patties gently to the sugar syrup ...drop patties according to the size of your pan. ..rasmalais need more space to be cooked...the size of the rasmalais will be doubled on cooking on sugar syrup.
Cover the vessel with lid......cook 25 minutes on medium flame .Open the lid and gently stir every 5 minutes to ensure even cooking and puffing.
Turn off the gas, transfer he Rasmalai Patties into a serving bowl without sugar syrup.. let them be cool.After cooling down you can press the rasmalai patties in your palms. be gentle and don't apply too much of pressure, as then the rasgullas will break. there should be no sugar syrup in the Rasmalais.
Heat milk in a saucepan and bring it to boil..when milk will start boiling. .reduce the heat to medium. Stir continuously to keep milk from sticking to the bottom of the vessel..
Add sugar and stir till it dissolves. and add saffron soaked milk..add cardamom powder. Cook until it's volume is reduced to half portion.
Simmer the gas and drop rasmalai patties into this milk gently..Add 3/4th portion of chopped dry fruits.Cook for 3-4 minutes on low flame.
Switch off the heat, transfer the Rasmalai to the serving bow one by one with spatula, pour the milk on them...let them come to room temperature, then keep in the refrigerator for 3-4 hours.
After 3-4 hours, take out from refrigerator, garnish rasmalai with saffron strands and 1/4th chopped dry fruits...and serve.
Footnotes:
You can make this with store bought paneer, in that case you have to mash it properly.