Rava Dosa
South Indian Snack Dish. Very easy to prepare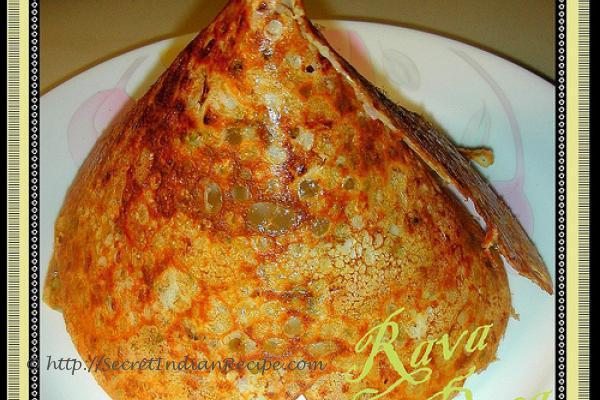 Ingredients:
Rice Flour
Semolina (Sooji,Rava)
Cumin Seeds (Jeera)
Onion (Finally Chopped)
5-7 Fresh Green Chilies
Turmeric powder (pinch)
1 1/2 tbs Ginger
1/2 tbs Black Pepper
Chopped Coriander
Frozen vegetables OR Fresh finely chopped Carrots, beans/peas
Salt
Water
Directions:
Proportions - 1. For every cup of Semolina take half a cup of rice flour 2. Finely chopping onions depends on how many people you are serving. Directions 1. First off soak the Semolina in warm water for a period ten minutes. 2. In a blender pour the soaked Semolina along with the proper proportion of Rice Flour, Cumin Seeds, finely grated Ginger, Green chilies, Turmeric powder and Salt to taste; Then blend the mixture. 3. Keep adding water to the blender until the batter is slightly watery. 4. Add the chopped onion and the chopped Coriander to the batter (if needed add the frozen vegetables as well) Pour the batter on a hot Pan(tava) and serve with pickle or chutney.
Footnotes:
The serving depends on the proportion of Semolina to rice flour. For 2 cups of semolina and 1 cup of rice flour it server 2-4 people.