Rava Kesari (semolina Pudding)
It is an Indian dessert that will tempt your taste buds to eat it more and more times. It is my most favourite dessert; in fact, I am addicted to this kesari. I have learned the method of cooking kesari from my friend's mom. This is very easy to cook and requires very less time.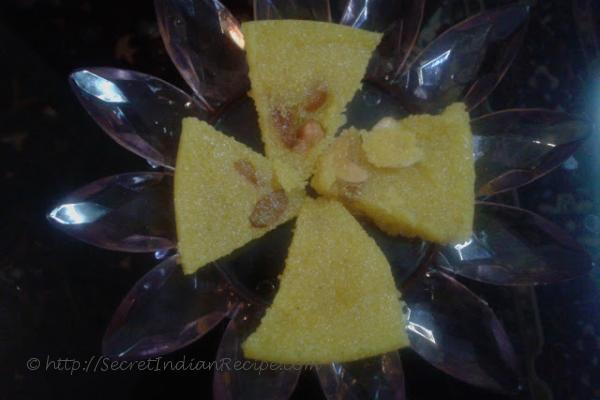 Ingredients:
Semolina- 1 cup
Sugar- 1 and 1/2 cups
Water- 3 cups
Yellow food colour- a pinch
Ghee- 7 tbsp
Cashew nuts- 10 pieces
Kismiss (Raisins) - 10 pieces
Directions:
Grease a tray with 1 tbsp of ghee and keep aside
Mix 1 and 1/2 cups of sugar with 3 cups of water and add a pinch of food colour to it. Boil it until the sugar gets dissolved completely and keep aside.
Heat 4 tbsp of ghee in a heavy bottom pan
Fry the cashew nuts and raisins in ghee for few seconds and keep aside
Add the semolina to the remaining ghee and fry it until it turns light pink in colour. Stir constantly or else the semolina will burn.
When the semolina turns light pink in colour, add the water boiled with sugar and food colour and cook on low flame
Add 2 tbsp ghee to it and stir continuously until the semolina gets a pudding like consistency.
When it starts leaving the sides of the pan, switch off the flame and transfer it to the greased tray
Add the fried cashew nuts and raisins to it and spread evenly in the tray
When cooled, you can cut into any shape as desired.
Footnotes:
While adding water to the fried semolina, stir continuously so that the semolina does not form lumps.