Red Velvet Tomato
This festive season I want to share a unique tasty and nutty tomato recipe which is innovative. A mouthwatering sweet dish which would make you want more. #diwalirecipe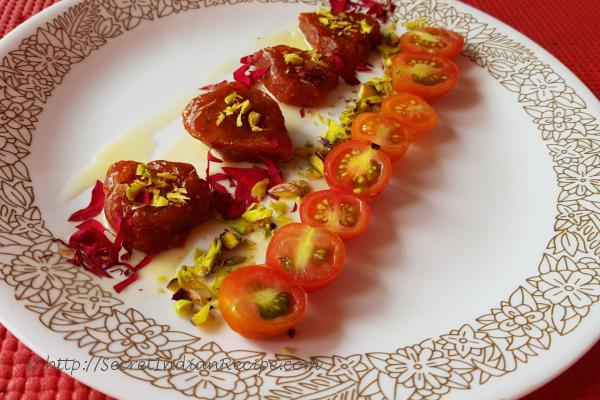 Ingredients:
Tomato 7 nos boil and make a puree of 1 cup
Sugar 6 tablespoons
Ghee 5 tablespoons
Mixed Dry fruits 1/2 cup fried and crushed
Clove powder 1/2 teaspoon
Directions:
Heat a kadai and pour tomato puree in it , boil for three minutes.
Gradually add sugar, ghee , clove powder and crushed fried dry fruits simmer it till the mixture becomes thick and the ghee separates from the Kadai.
Make heart shaped deign by pouring the mixture in a grease moulds. Make red velvet out of it.
Garnish with dry fruits and tomatoes.