Restaurant Style Aam Ka Achhar (mango Pickle)
Mango pickle is made all over India but the taste varies from state to state, community to community and family to family. Here is a simple restaurant style pickle recipe that can be made easily at home.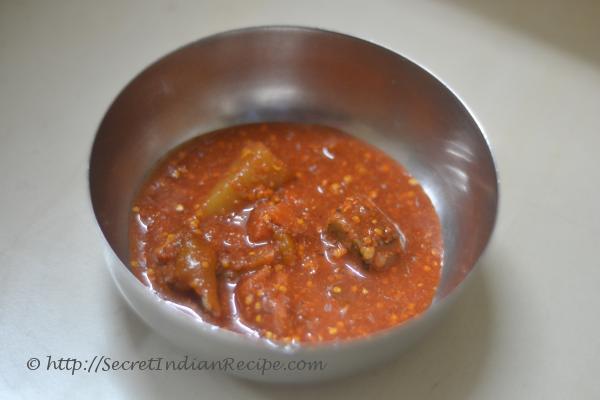 Ingredients:
Kaccha aam ( Raw Mango) - 500 grams
Turmeric powder - 6-7 tablespoon
Salt - 7 tablesppon
Methi ( fenugreek seeds) - 3 tablespoon
Sauf ( fennel seeds) - 4 tablespoon
Kalonji ( nigela or onion seeds) - 2 tablespoon
Sarson ( mustard seeds) - 3 tablespoon
Red chilli powder - 3 tablespoon
Mustard oil - 150 ml.
Directions:
Wash the mangoes throughly and cut them into medium pieces.
Add the turmeric and 1/2 of salt and mix well.
Sun dry these mangoes on a muslin cloth for 3-4 full sunny day.
Dry methi, sauf, kalonji and sarso for min. Grind methi, sauf, kalonji and sarson into powder and keep aside.
In a Bowl take the sun dried mangoes and add grounded spices, red chili powder, salt and mustard oil and mix well. Transfer this mixture into a glass jar. If there is more space add a little more oil to submerge all mango pieces into the oil and masala.
Keep in sunlight for 2-3 more days and then store in a dry place.
Serve with any meal as a side dish
Footnotes:
Add 2 tablesppon of vinigar for quick processing of pickle but remember that it has salt so reduce the quantity of salt to 5 tablespoon