Restaurant Style Aloo Masala (potatoes Cooked With Onions & Masalas )
Aloo or potatoes are an integral part of Indian kitchen and we Indians can cook hundreds of recipes from aloo. My Aunt, Neesa, stays in Canada but whenever we visit her, she makes it a point to cook an aloo sabzi for us, be it Aloo gobhi or Aloo Masala. This recipe of aloo masala also was handed down to me by her. She claims that the recipe was given to her by a friend who is a chef in an Indian restaurant in Canada. While She taught me this recipe, she particularly told me to use homemade garam masala, take cardamom, cloves and cinnamon in equal quantity and grind them to a fine powder. So if you want to try this recipe, use home made garam masala only.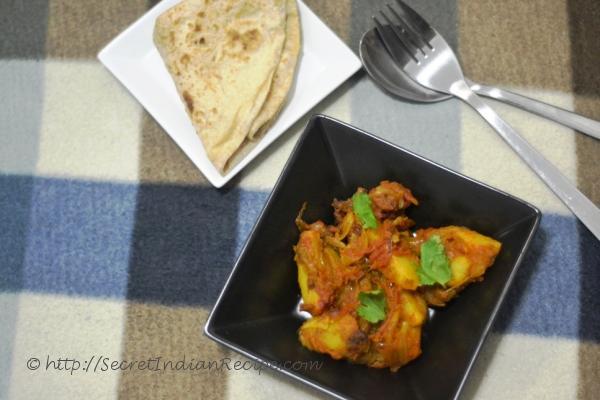 Ingredients:
Boiled Potatoes - 5 -6 pieces
Tomatoes - 2 medium sized
Onion - 2 medium sized
Garlic - 1 tablespoon finely chopped
Turmeric powder - 1/2 tablespoon
Red chilli powder - 1/2 tablespoon
Green chillies - 2 (Chopped)
Garam Masala - 1 tablespoon
Salt - as per taste
Oil - 4 tablespoon
Coriander - handful roughly chopped
kasuri Methi: 1 Tsp
Directions:
Peel the boiled potatoes and chop them into medium size cubes
Julienne the Onions and chop the tomatoes
Heat oil in a pan and add the chopped onions. Fry the onions, till they become translucent.
Now add tomatoes and chopped garlic and continue to fry over medium heat till the tomatoes turn soft.
Now add turmeric powder, red chilli powder, chopped green chillies, garam masala and boiled potatoes and mix.
Sauté on medium heat for about two minutes.
Add salt to taste and mix. Put a lid on and leave the aloo masala on low flame for a minute.
Rub the kasuri methi between your palms and add to the dish. Cook covered on low heat for a minute more
Switch off the flame. Stir, garnish with coriander leaves and serve hot with chapatti or paratha.
Footnotes:
Do not add any water.
For a more richer taste, fry the potato cubes first, keep aside and then add them back after cooking the onions and tomatoes with the masalas