#rhomesecret Recipe: Chicken Stew And Appams (kerala Delicacy)
I prepared this recipe at Renaissance Mumbai's Lake View cafe as a part of R Home Secret event.
In Kerala, any traditional breakfast is inevitably based on rice products. Rice flour is a definite widely found ingredient in most Keralite Kitchens. In fact, there will be variations of the powder, coarse ground, fine ground, super fine ground and fried...
The other equally famous ingredient will be the humble coconut, whether it is coconut milk, coconut smooth paste, coarse paste, grated and more.
Appams (A mix of rice and coconut) hail from the Syrian Catholic Kitchen, and became a popular tea shop breakfast delicacy all across the state and now has crossed many state, national and international boundaries.
I love appams for the texture and aroma it has. Appams are had with sweetened thick coconut milk, potato stew, egg curry to name a few. But the chicken stew is a must for all poultry lovers and is my personal favourite.
What's the secret about appams? Fresh toddy makes great appams!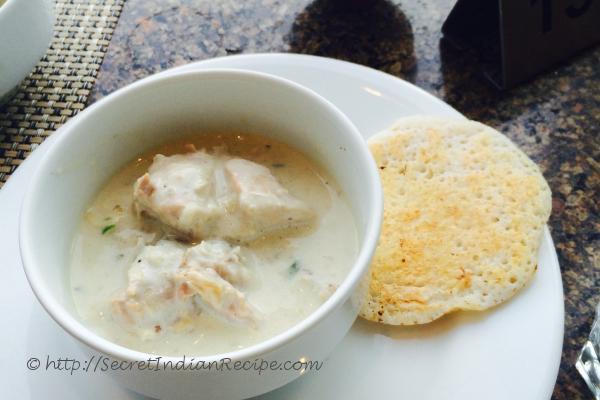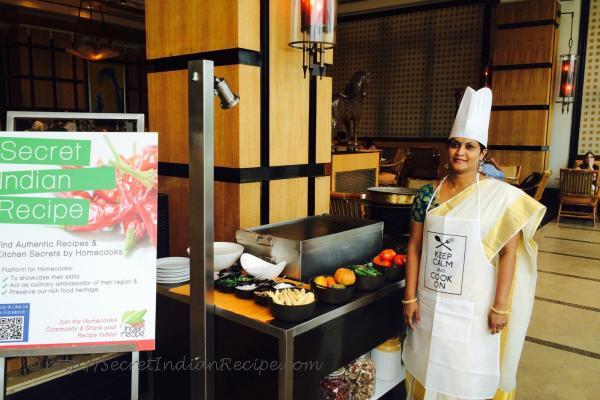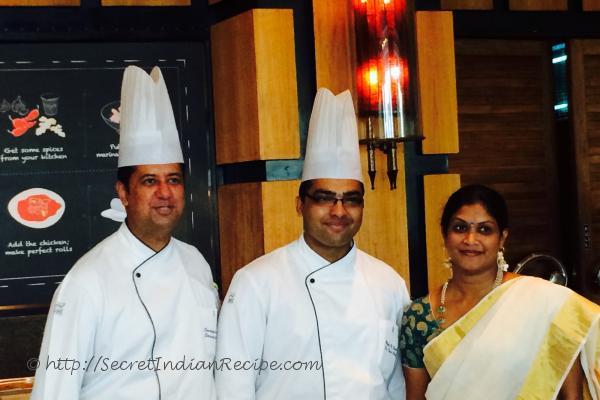 Ingredients:
For Appams
Rice (regular raw rice) - 1/2 kg
Boiled rice (cooked) - 1 tea cup
Coconut milk - 1 big coconut
Neera/ Fresh Toddy - enough for grinding (Or Dry Active Yeast - 1/2 teaspoon)
Salt - as per taste
Sugar - 4 tablespoons (can reduce if toddy / neera is sweet enough)
For the Chicken Stew
Chicken (medium sized pieces) - 2 kg
Coconut milk - 2 big coconuts
Onions - 8
Garlic Pods - 20
Ginger - 2 inches
Curry leaves - 4 stems
Green chilli - 10-14
Pepper crushed - 10
Salt To taste
Coconut oil (Optional) - 4 tablespoons
Directions:
For the Appams: Soak the raw rice for 5 hours in lukewarm water.
Extract coconut milk – 2 rounds - one very thick and the other thick. Remember to keep aside the coconut water when cracking the coconut.This is only if you cannot get toddy/ neera for grinding. You can use coconut water and regular water in that case. In this case, be sure to add the sugar to 1/2 tsp of yeast (not mentioned in ingredients) for mixing a little later when the batter grinding is done.
Grind the cooked rice first and keep aside.
Grind the raw rice and add the ground cooked rice slowly. Use the coconut water/ toddy/ neera and coconut milk for grinding. Reach a very smooth grind level and the batter consistency will similar to dosa batter. Add the sugar and grind for another 5 minutes. (If you are unable to get neera/ toddy then try using dry active yeast. Soak in a little water with a spoon of sugar. Will be ready for mixing. But mix this only at the end after you transfer to the container.)
Keep aside in a container / vessel which will allow batter to rise twice the height.
Leave covered for 12 hours.
Before you start making the appams, make sure you beat the batter well and the consistency should be similar to that of a dosa batter. Can be slightly thinner but definitely not thicker.
Use a non stick appam pan for the perfect shape.Makes 30 appams.
For the Chicken Stew
Slice the onions very thin.
Crush the ginger – garlic into a coarse paste.
Split the green chilli.
Add all the above into a large earthen pot and leave for cooking on low flame. Add a cup of water.
Wash and clean the chicken.
Extract thick coconut milk and keep aside.
When the onions become a see through level add the chicken and salt to the pot. Swirl the pot. Keep the flame low. And cook at least for an hour after this point. Keep swirling the pot to make sure you do not end up burning anything at the base. Also note that the chicken needs to cook but stay
When chicken is cooked add the curry leaves and crushed pepper and cover it with a lid. You just need a quick boil post this.
There should be minimal broth in the pot when you switch it off.
Take the dish off the burner/ gas. Give the dish a 10 minute cooling off period. Lastly add the coconut milk and give the pot a swirl.
Optional Step: Add coconut oil on top as a layer. Cover and keep for 5 minutes.
Footnotes:
Do not reheat this dish. Ideally, to be had within an hour of making.
Other Indian Recipes that you may Like !