Rhomesecret Recipe: Kudampuli Meen Curry (fish Curry With Garcinia Cambogia)
This curry is typical to the mid Travancore area of Kerala , that is, central Kerala. It is cooked in most homes like a staple and served with rice or tapioca. It is a spicy tangy curry.
Garcinia cambogia has lately become a favourite with fitness gurus as it is known to aid weight loss. Known locally as "kudampuli", it is a fruit that is collected in season, and allowed to dry in the sun till it is blackened. It is further dried atop smoky chulhas and then stored. We soak it in a little water before using it, to enable it to hydrate as well as bring out the flavours.
Most fish can be curried well with this recipe but Kingfish turns out really awesome with this. White pomfrets do well too but they are too delicate and should be cooked for a much lesser time.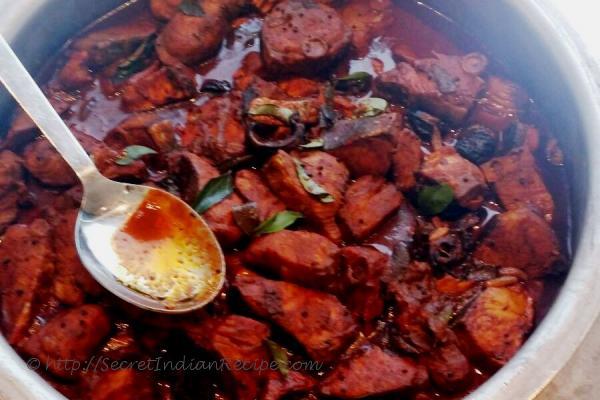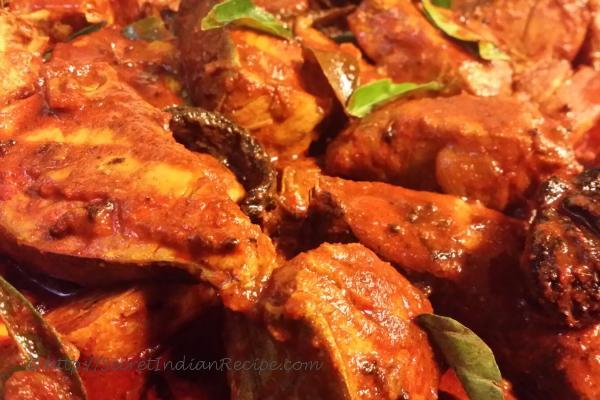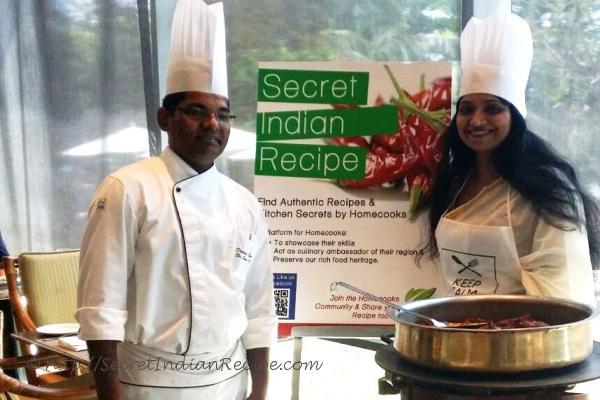 Ingredients:
1kg kingfish skinned and cubed (like big tikka slices)
shallots- 1/4 cup - sliced
ginger- 1" - julienned
curry leaves - a handful - halve it as we need some at the end too.
mustard seeds- 2 teaspoons
fenugreek seeds- 1 teaspoon
coconut oil- 2-3 tbsp
kashmiri chilli powder- 3 tbsp
turmeric powder- 1 teaspoon
salt to taste.
3-4 pieces of garcinia cambogia
Directions:
Wash the fish pieces with 2-3 slices of the garcinia and salt and keep aside. (do not dispose the bones of the fish- they add immensely to the taste)
Soak the garcinia cambogia (kudampuli) in a bowl of water and keep aside. This needs to soften and usually takes about 15 minutes. Also, make a paste of the chilli powder and turmeric powder and set aside.
In a kadai, heat the coconut oil and temper the oil with mustard seeds. Follow it with fenugreek seeds. Before the colour changes, add the garlic and half of the curry leaves. As the aroma rises, add the shallots and ginger and sauté this mixture till it begins to caramelise. Do not brown it.
Now add the paste to this mixture and stir fry till the colour changes slightly. Add about 3 cups of water and the bowl of garcinia cambogia, with its water. Stir well to make the gravy.
After it boils, add sufficient salt. The fish should be submerged in the gravy now to cook well. The gravy will thicken a little later after it cooks.
Now add the fish pieces and mix it carefully. Check the consistency of the gravy. Allow to boil on a high flame for about 30 minutes.
When the fish is well cooked and the gravy thickens a bit, turn off the flame and pour in 2 tbsp of coconut oil and a few sprigs of curry leaves. The curry is done. Serve with hot rice.
Footnotes:
When using delicate fish like pomfrets/ nile perch etc, it is better to allow the gravy to boil a bit and achieve the desired consistency and then add the fish pieces and just let it cook for 15 minutes as these cook very fast. This curry needs to rest a bit before serving. The taste is enhanced overnight without any refrigeration. In case you have leftovers, you only need to boil it again in 24 hours and leave it at room temperature. This way, the fish does stay tasty without any refrigeration for upto 3 days.
This curry is best cooked in a flat bottomed mud chatti (pot), but in case we cannot get a chatti, we can make the curry in a flat bottomed non stick vessel too.
Other Indian Recipes that you may Like !