Rhomesecret Recipe: Noroxinho Aru Boror Anja (lentil Dumplings In Curry Leaves Curry)
RHomesecret Recipe cooked on 21st June 2015 at Renaissance Lake view cafe
This is one of Assam's staple food . Tastes best with tiny river fishes like puthi (swam barb fish), kholihona or even big fishes like Rohu, Bahu etc. This is every ones favorite in our family. Mine is a vegetarian one. So instead of fish I have used red lentil pakora or bor.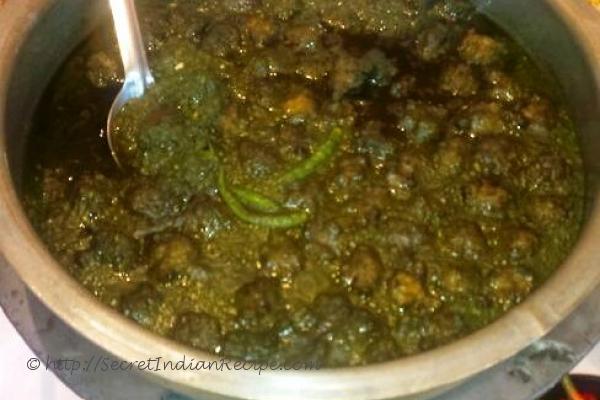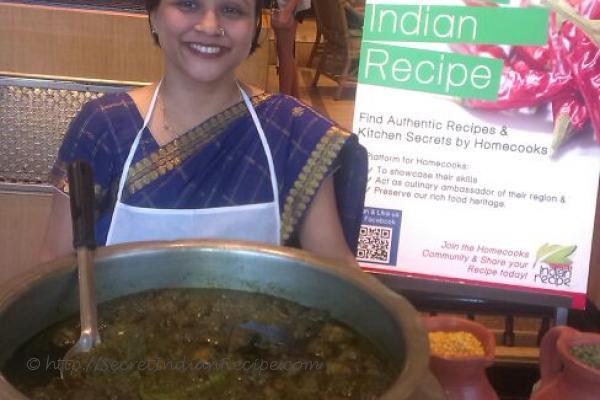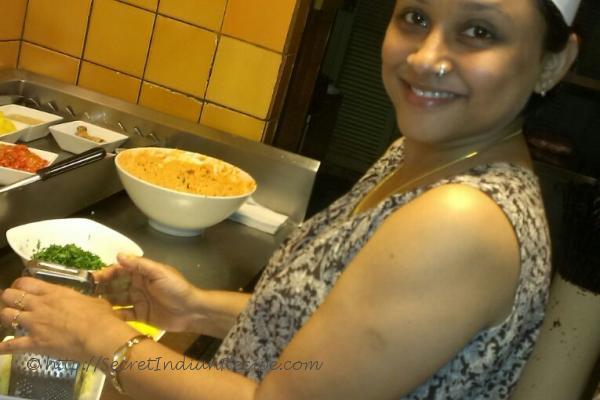 Ingredients:
For Bor:
1 cup Masoor dal soaked for 2 hours
2 green chillies
One big onion chopped finely
Spinach- 4-5 leaves chopped finely
Ginger 1 cm
Salt to taste
Baking powder-1/4 teaspoon (optional)
For the curry:
Curry leaves preferably tender ones -----2 to 3 cups
Onion –2 medium size
Green chilli---2 whole
Garlic-8-9 cloves (1 &1/2 tablespoon)
Ginger 1inch
One big or two medium sized boiled potatoes
Turmeric powder—1/4 teaspoon
Crushed Peppercorns powder--2-4 Teaspoon
Hot water 2 cups
Garam Masala –1/4 teaspoon(optional)
Salt to taste
Mustard oil to fry pakoras and curry
Directions:
1. Grind the masoor dal(Red Lentil) and green chillies into coarse paste.
2. Add salt, chopped spinach leaves, chopped onion, baking powder(optional). Mix it well.
3. Heat oil. Take 1 spoon of dal paste and put it slowly over the oil. Deep fry and make pakoras or bor. Once done keep it aside.
5. Next Grind the curry leaves and onion and small amount of peppercorns with little water to a smooth paste.
6. Heat the oil (same oil where bors were fried).
7. Add the grated garlic and ginger. Fry till the raw smell of garlic goes away.
8. Add the curry leaves paste and fry for a second.
9. Mash the potatoes and add it to the masala.
10. Add salt, turmeric and 1 teaspoon of crushed pepper.
11. Fry well till the water dries out.
12. Add hot water. Let it come to boil.
13. Then slowly add the bors.
14. Lower the gas to medium flame and let it boil for 5 to 10 minutes .
15. at Last add the remaining pepper powder and garam masala.(optional)
16. Switch off the gas. Throw two splitted green chilies into the curry. Transfer into serving bowl.
18. Serve hot with steamed rice.
Footnotes:
One can add pinch of dhania powder also. But pepper powder and garlic are must.
Gravy should not be very thick. Once bors are added after some time they will soak little curry. At the end the curry will be in desired consistency.
This recipe tastes best with cat fish.
The curry leaves should be tender one and should be grinded properly.Else a bitter taste will come.