Rice Ball Manchurian
I tried this rice ball manchurian last night. The taste was really nice.....so thought of sharing my recipe here.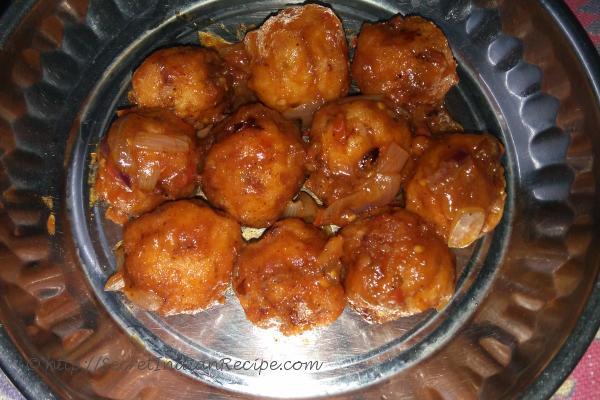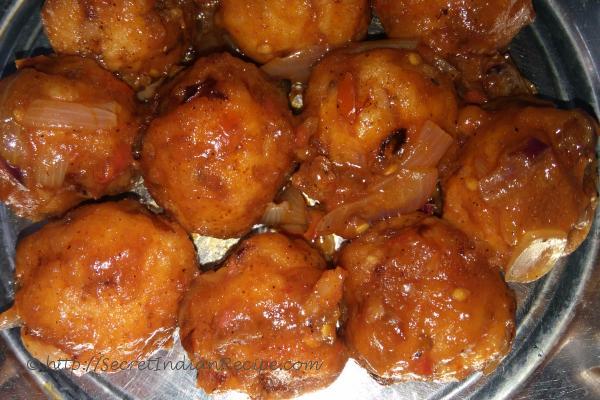 Ingredients:
Cooked rice-1 cup
Besan flour-1/2cup
cornflour-1/4 cup
Chilly powder-1tsp
Salt-to taste
Onion-1 big chopped finely
Coriander leaves-a handful
Oil- for deep frying
for sauce:
Onion-1 finely chopped
Capsicum-1 chopped
Tomato puree-1/2 cup
chilly powder-1/2tsp
Soya sauce-1 tsp
Cornflour-1 tsp mixed with water
Directions:
In a bowl add cooked rice, besan flour, cornflour, salt, chilly powder ,chopped Onion and coriander leaves. Prepare a dough & make mall balls from that.
Heat oil in a kadai. and add the balls. Fry it till getting golden brown( don't over cook the balls ).Transfer the fried balls to the tissue paper.
For making sauce, heat a pan add 1tbs oil. Then add chopped onion and saute for a mintue..Then add capsicum & saute it again for a mintue. Thereafter add tomato puree, chilly powder, soya sauce and 1/2 cup of water. Let it simmer for 2 mintues. .
Finely add corn starch mixture and fried balls. Mix it well till balls absorb sauce. Serve hot with fried rice
Footnotes:
While making balls rub some water or oil to make it easier.