Rice Pudding Dessert Tacos With Fruits And Chocolate Sauce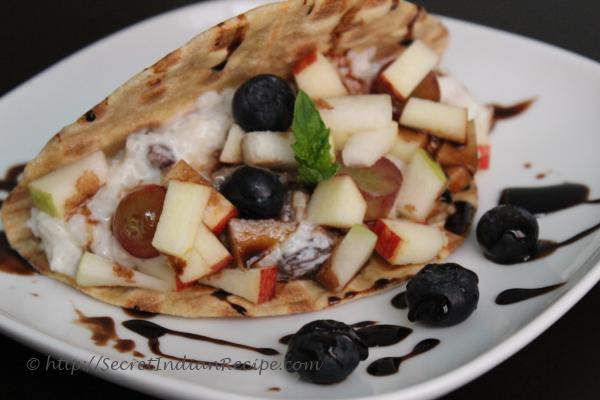 Ingredients:
For Rice Pudding : Milk – 500 ml
Rice – ½ cup (washed and soaked in enough water for 30 minutes)
Green Cardamom Powder – ¼ tsp
Sugar – ¼ cup (or adjust to taste)
Raisins – 15 to 20
For Taco Shells : Whole Wheat Medium Sized Tortillas – 5
Butter – as required
For Serving : Apple – 1 (chopped)
Pear – 1 (chopped)
Red Grapes – 10 to 15 (cut into halves)
Blueberries – 15 to 20
Chocolate Sauce – 4 to 5 tbsp
Mint leaves - 5
Directions:
For Rice Pudding : Place the milk, rice, sugar, and salt in a medium saucepan and bring to a boil over medium-high heat, stirring occasionally until the sugar has dissolved.
Lower the heat to a bare simmer and cook uncovered, stirring occasionally, until the rice is tender and the mixture thickens, about 15 to 20 minutes. Now add raisins, green cardamom powder, mix well and turn off the heat.
Put into the refrigerator for 30 to 45 minutes.
Taco Shells : Preheat the greased waffle iron and put tortilla over it. Cover it and cook for 3 to 4 minutes.
Now fold the waffled tortilla into half so that it will get the shape of taco shell. Repeat the process for making more taco shells.
For Serving : In a serving plate, arrange one taco shell and put some chilled rice pudding over it.
Top it with the fresh fruits and drizzle some chocolate sauce over it.
Put mint leaf in the center to look it appealing and serve immediately.