Roast Chicken Pockets With Aubergines And Tomatoes
This recipe happened when my friend and myself were fretting over how to inspire our children to eat more vegetables. And that conversation led to making this chicken stuffed with roasted mashed eggplant, tomatoes and spinach, and then roasted again. This is a very flavourful dish which does not use many spices.
As most mothers will agree, we resort to every hook and crook in the book to improve our children's nutrition. But what a stroke of luck and genius when one's concoction turns out to be a winner with both adults and children!!
This recipe does require some prep work but the effort is definitely worth it at the end.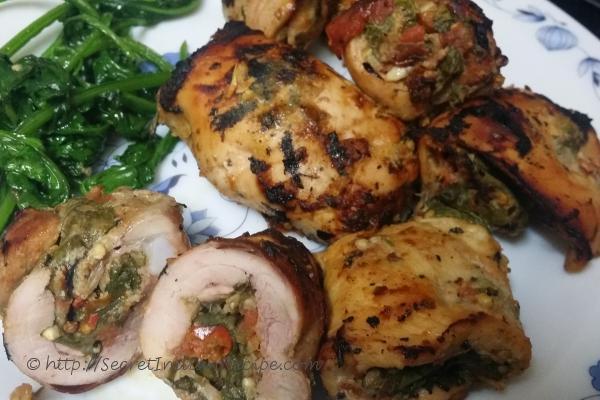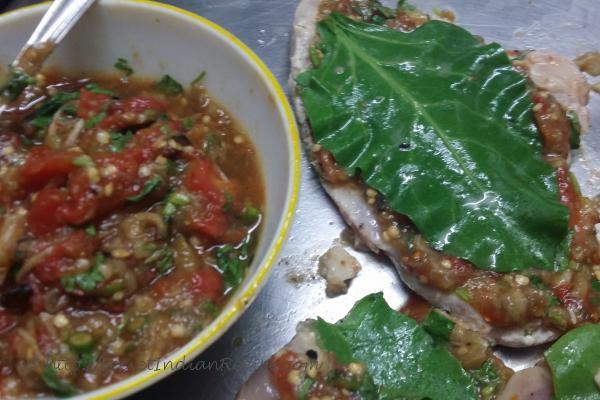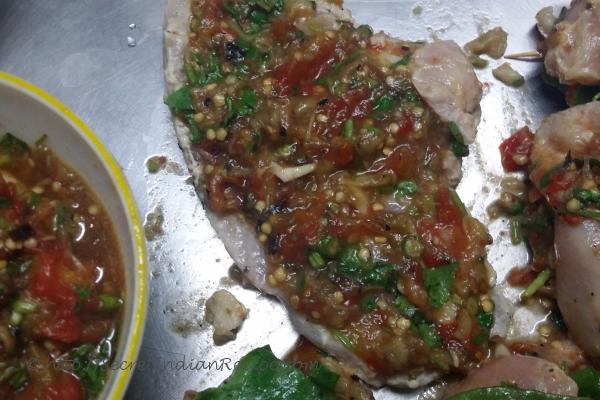 Ingredients:
800 gms Chicken breasts and thighs
Lemon juice from 1 lemon
Low fat Curd- 1tbsp
Pepper - 1tsp
Arabic masala (or any garam masala)-1/2 tsp
Chilli oil (olive oil infused with habanero chillis)
Aubergine -1 medium sized
Tomatoes - 3 medium sized
Garlic - about 8 cloves with skin on
Bird's eye chillis - 3-4 (or green chillis)
Spinach leaves- cleaned and set aside whole
Mustard oil
Salt to taste
Directions:
Debone the thighs and make thin chicken fillets of the thighs and the breast pieces.
Marinate the fillets with the juice of a lime, salt, low fat curd, pepper, 1/2 tsp Arabic masala (or any garam masala) and chilli oil (I used habanero oil). Keep it aside.
In the meantime, roast the aubergine on an open flame, after applying mustard oil on it. After it is well roasted, remove the charred skin (I let a little stay as it adds to the smokiness).
Similarly flame-roast 3 medium sized tomatoes and about 8 cloves of garlic. You can skewer these and roast on open flame or set in a tandoor. I roasted the eggplant and then set in the tandoor anyway along with the tomatoes and garlic.
Once they are all charred a bit, take them out and mash them together. Chop in 3-4 green chillies. I was out of chillies so I put in a few pickled pimentoes (bird's eye chillis)- this worked amazing for the roast mix. Pour in a tbsp of raw mustard oil and salt to taste and just mix very well and keep aside.
Wash some spinach leaves thoroughly and set aside. Keep the leaves intact.
Now we assemble this. Take each fillet and spoon a small bit of the roast mix. Then place a spinach leaf on the fillet. Roll it and use toothpicks to hold it in place. Repeat the same for all the fillets. Leave them for 1/2 an hour.
You can bake it in an oven at 180-200°C for about 30-40 minutes. or if you have a stove top tandoor, u can roast them in it for maybe 30 minutes on medium-low flame.
Footnotes:
This goes well with laccha parathas/naans. This dish can even be a good starter with cocktails.
In case one does not have chilli oil, it will be a decent time substitute if we can warm some oil with a spicy chilli chopped and thrown in. Do not fry it though. Allow the mixture to stand for a bit and cool down. Then it can be used as per the recipe.