Roasted Moong Dal With Spinach Tadka
My inspiration for this dish is simply my love for the Bengali cuisine that infuses awesome flavors and aroma into the food by cooking it in whole spices and tempering with desi ghee. This dish is a pure satvik vegetarian dish and does not have any onion, garlic and even tomatoes. The moong dal may be fried in ghee or dry roasted which gives it a special aroma. The spinach is blanched and stir fried in ghee, giving it a crispy texture, nutty flavor and aroma. The spinach and the lentil is then cooked with ghee and whole garam masala spices that enhances the flavor and makes it yummy.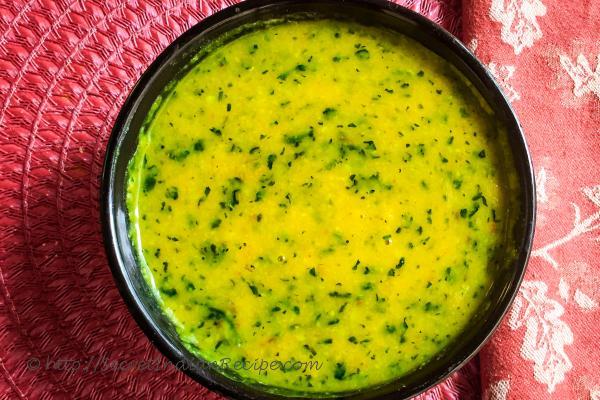 Ingredients:
1/2 cup Moong dal (skinless and Split Moong dal)
1 cup fresh Spinach leaves
1 tsp Turmeric powder
1/2 tsp Red chilli powder
2 tsp Ghee
1 Bay leaf
1 Dry Red chilli
1 inch Cinnamon stick
2 Cloves
2 Cardamon pods
1/2 knob Ginger grated/chopped
1 Green Chilli
Dash of Hing or Asafoetida
1/2 tsp Cumin seeds
Salt as per taste
1 tsp Roasted Cumin powder
Directions:
Dry roast moong dal on low medium heat for 5-6 minutes till you feel the aroma. Turn off the gas and let the lentil cool. Wash and clean the roasted dal with water and pressure cook it with little salt and half of turmeric and 1 and 1/2 cup of water. Give it 2 whistles and then let cool the steam.
Prepare an ice bath by taking some water in a container and add ice cubes into it. Keep the ice bath ready before you start blanching the spinach. Wash and clean spinach with water to remove any dust or grain. Add sufficient water in a big container and bring it to a boil. Add spinach leaves into the boiling water and blanch it for around 2 minutes or less. Remove the leaves by a strainer or skimmer and let it cool in ice bath for 30 seconds. This stops the spinach leaves from the cooking process. Remove the leaves and squeeze out excess water from it.
Finely chop the blanched spinach, 1/2 knob ginger and slit green chili vertically.
Heat a large skillet and add 2 tsp ghee into it. Add hing, cumin seeds, dry red chillies, cinnamon stick, bay leaf, cloves and cardamon pods. Saute for 2-3 minutes on low flame.
Add chopped spinach, grated ginger and green chilly and stir fry for 5-6 minutes till the spinach becomes crispy.
Add the cooked dal. Add water as required for the gravy consistency. Add turmeric and red chili powder.
Bring the dal to a boil on low medium flame. Add roasted cumin powder and salt as per taste. Lower the flame and let the dal simmer for 2-3 minutes.
Serve the roasted moong dal with spinach tadka hot along with rice or puri