Rohu Fish Paturi( রুই মাছের পাতুরি )
"Happy Mothers' Day"- This three special words were not at all popular when my Mother left me 30 years ago for her heavenly abode. So I take this opportunity to thank Secret Indian Recipe for conveying these three beautiful words to my late mother and to all those mothers who live there lives for the sake of their children. Thank you to provide me a platform for sharing my mom's treasured recipe(s).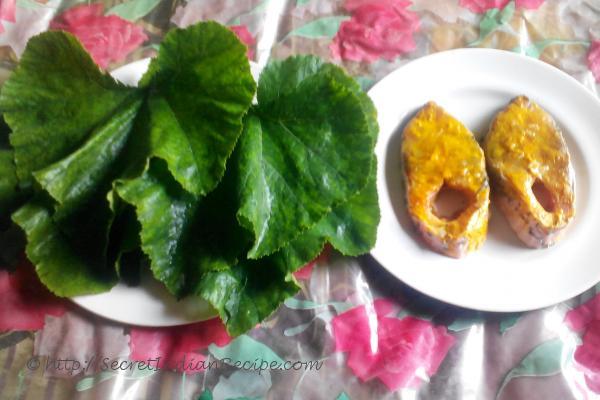 Ingredients:
Rohu Fish- 2 big pcs
Mustard paste- 2 tablesp
Poppy Seed paste- 2tablesp
Coconut grated- 5tablespoon
Mustard oil- 50ml
Green chili- 3-4nos
Turmeric- 1/2tsp
Salt & Sugar- To taste
Pumpkin leaf- 3pcs
Lemon juice- 1tsp
Directions:
Wash the fishes properly and then marinate with lemon juice, salt, and turmeric for 10 mins.
Then in a separate bowl add mustard paste, grated coconut, poppy paste, turmeric, salt, sugar, mustard oil and green chili and mix well.
Now spread the mixture over the fish and fold it with the pumpkin leaf. Perform the same for the other piece also.
Now wrap and close it using tooth pic so that the leaves does not open.
Now in pan, add mustard oil and put the wrapped fishes, Cook on low flame.
When one side becomes golden brown, turn it for the other side.
When both the sides are well fried, open the leaves, add some mustard oil and garnish with green chilies and serve hot with white rice.
Footnotes:
The pumpkin leaf is used so that the leaf is not wasted.
Other Indian Recipes that you may Like !