Rose Delight (rose Cookies)
An attractive mouth watering recipe which will win everyone's heart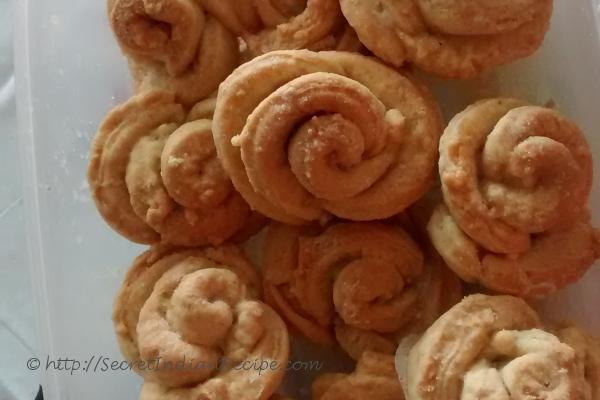 Ingredients:
5 table spoon Sugar
lemon zest
150 gm self raising floor
75gm unsalted butter
Round cookie cutter or any sharp edge small bowl
Directions:
Take unsalted butter (room temperature) and gently whisk it.
Add floor to the butter.
Mix both of them gently.
Add 2 tb spoon castor sugar into the mixture and make a smooth (cookie type) dough.
Keep the dough for resting for 10-15 mintues.
After 15 min take the dough and make a thick round like roti/ chappati.
Place the cookie cutter and take small circles from the bigger roti(round).
Place small circles 4 nos. On one another at a certain distance. Remember the circles should not get detached from one another. It means it should be placed in a certain way as if you are not creating a pillar But you are making a straight chain on a straight line.
Now start folding the small rounds from one end to other, like you roll the newspaper
You will see the rose petals are formed.
Now cut the roll in between so that you will get the two roses
In the same manner you have to make roses
Preheat the oven at 180degree centigrade.
Keep the roses in the oven and bake for 15-20 min. Untill they are done or until they get light golden brown from the top
After 20 min remove the roses from the baking tray and put them on the cooling rack
While roses are cooling start making sugar syrup
Take sugar in a cooking pan.Add 3-4 spoon water as per the consistency required.
And start cooking or making a sugar syrup.The syrup should be cooked till it get the consistency of one wire.
Add lemon zest to the syrup while its boiling.
One can add cardamom powder or cinnamon powder if required.
Transfer the roses into another vessel.
Now pour the sugar syrup on the roses and let it cool down
Our rose delight is ready to eat
Footnotes:
Before placing the roses in the oven sprinkle caster sugar on them and then let them bake.It will give a caramalised texture to the roses.