Rose Shahi Tukda
This year, both me and my husband were busy in shifting our house. There was a mixed feeling . We were shifting to our own bought home but we were a little disheartened as were going from the place we have spent years. In the evening we decided to take a break and I rushed to the kitchen to cook something sweet. This is what I cooked as valentine dessert.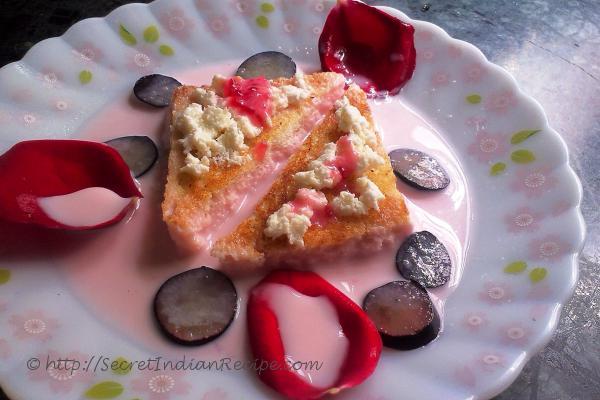 Ingredients:
Bread slices – 2
Butter – 3 tablespoon
Milk – ¼ cup
Rose syrup – 2 – 3 tablespoon
Sugar – to taste
Black grapes and rose petals to garnish.
Directions:
Chop off the sides of the bread slices and keep aside.
Mix rose syrup, milk and required sugar in a bowl and then put it in deep freezer for few mintues
Heat a tawa and put half of the butter. Roast the bread slices on lowest possible flame. As they turn brown from one side, flip them. You can put some f more butter from sides. When it turns brown and crispy, take them out on a plate.
Apply the remaining butter on the top of nice roasted and crunchy bread slices.
Pour the chilled rose milk on the slices.
Garnish with grapes and rose petals and serve immediately.