Rosy De-"lights"
Rosy De-"Lights" appear as Deepavali diyas and taste delicious.
These serve a scrumptious dessert during the festival Diwali.
I used homemade rose water for getting the natural aroma and color.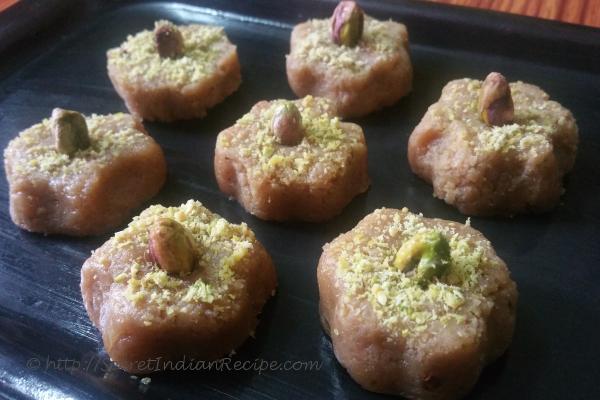 Ingredients:
Bengal gram flour / Besan - 2 cups
Maida - 1 cup
Sugar - 2.5 cups
Ghee - 1(1/4) cups
Rose water (homemade)- 1 cup
Grated Coconut - 2 Cups
Pistachio- For garnishing
Directions:
Add 1 (1/4) cups ghee in a hot pan. Once the ghee is melted , add 2 cups besan and stir well on a low flame.
Then add 1 cup of maida to the above mix and stir well to avoid lumps.
In the meanwhile , prepare sugar syrup - Add 2.5 cups of sugar in a hot pan.
Pour 1 cup homemade rosewater and little water to it . Ensure that the level of the liquids is just to dissolve the sugar.
Keep stirring the mix continuously until string consistency is formed. Note that the consistency is slightly more than one string consistency.
Transfer this syrup to the prepared mix.
Add 2 cups of grated coconut and mix well.
Switch off the flame. Allow it to rest / attain room temperature.
Now mould it into desired shape. Garnish with Pistachio.
Rosy De-"Lights" are ready to be served. These can be stored at a cool place for a week.
Footnotes:
I prepared rose water at home by adding fresh and washed petals of roses to boiling water.Over a medium-low heat bring the water to a simmer and cover with a lid. Switch off the flame and allow it to cool.Strain the mixture to separate the petals from the water. The rose water is ready to use.