Rou Masor Lau Tenga(tangy Bottlegourd Fish Curry)
This combination is very unique, a typical Assamese dish. Fish curry in Assam considered as staple food .For me I have actually grown up having this fish curry . This fish curry is my mom's speciality. After trying several times now I feel I am getting closer to the tasty fish curry my mom used to make. Yet no one in my whole family prepares the curry like her. That's why this is very special to me.
We usually serve it with plain white rice.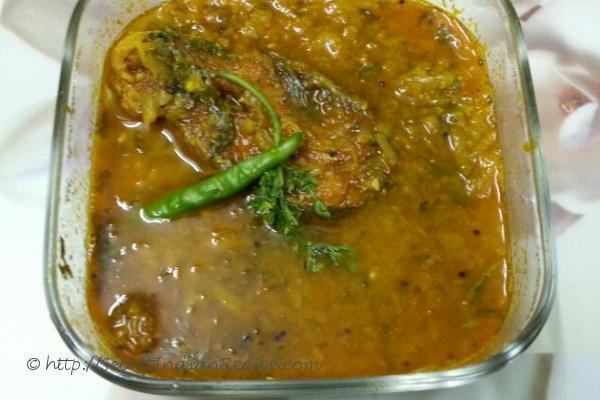 Ingredients:
Rohu Fish - 4 pieces ,middle portion where the bones are less
Pear Shaped Bottlegour, - 1 small size (say 10 inches) very tender one, make sure it does not have the seeds inside.
Cherry tomatoes,10 to 15
1 medium size potato
1 lime/lemon juice
Panch phoran 1 teaspoon
White mustard seed 1/2 teaspoon
Green chillies 3-4 slit in the middle
Green chillies whole 2
Mustard Oil to fry.
Hot water -3-4 cups
Chopped coriandar leaves 3 tablespoon
Salt to taste
Turmeric powder - 1/2 tablespoon
Sugar - 1/4 tablespoon
Directions:
Boil the cherry tomatoes till they become tender. Once cooled strain the water, mash it with your hand ,discard the seeds and the skin. Use only the pulp.
Clean the fish ,rub salt and turmeric to its both sides. keep aside.
Heat the oil in a kadhai. Add oil say 4-5 Tablespoons. once oil is heated then put the fish pieces slowly. Fry till it is cooked.
Grate the bottlegourd. Use big blade side to grate. Else you can do fine chopping. chop the potato too into small pieces.
Heat 2 -3 tablespoon of oil in another kadhai. Once oil is hot add the white mustard seeds, panch phoran and then 2 slit chilies.Then add the bottlegourd and potato.Add salt to taste and 1/2 teaspoon turmeric powder. Mix properly and cover it till it gets cooked completely.
Once the water from the bottlegourd dries up, mash it. then add the tomato puree. Add little sugar . stir it. wait for 2-3 mins till the water reduces.
Add hot water . Let it come to one boil. Add the fried fish. Cover and let it boil for some time.
Once the water reduces to its half add lemon juice and the remaining chillies. let it boil once. The curry should have medium gravy , not too watery nor thick.Switch off the gas. Add chopped coriander leaves.
Serve hot with plain rice.
Footnotes:
If the pear shaped bottlegourd is not available then you can use regular tender bottlegourd. In that case boil it till it is cooked.
If cherry tomatoes are not available, 2 regular tomatoes can be used. Cut the tomatoes into small pieces and fry before adding the bottle gourd.
Panch Phoran is equal quantity of Kolenji, saunf, jeera, rai ,methi
Lime juice and sugar can be adjusted according to the tanginess.
Use lot of chopped fresh coriander leaves .
Other Indian Recipes that you may Like !