Royal Bengali Polao
Polao is a very important dish among Bengalis during festivals, marriages, birthdays and many more. this is also offered as prasad to Hindu Gods during Puja. So a simplified version has given for all.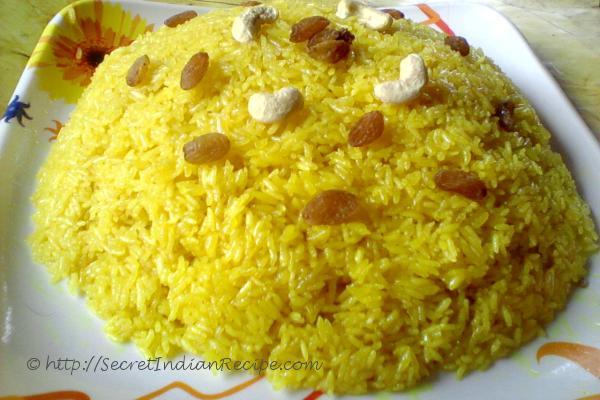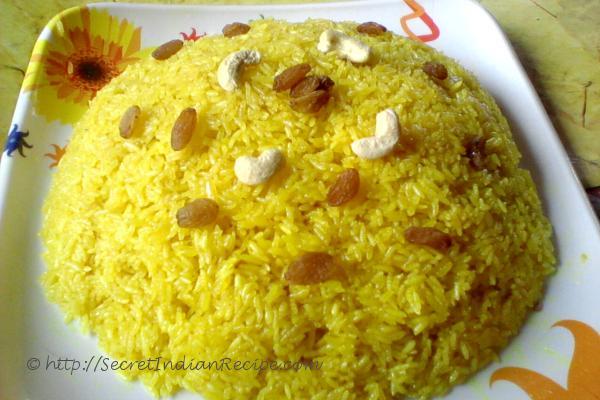 Ingredients:
Gobindo bhog Rice- 5 cups(100g cup)
Ghee- 100g
Sugar- 150-200g(as per taste)
Salt- 1tsp
Cashew & Resins- 100g
Water- 6 cups
Whole garam masala- 25g
Keora water- 5tsp
Turmeric- 2tsp
Directions:
Clean the rice in water and dry it by mixing 5tablespoon of ghee and turmeric for half an hour.
Now heat the remaining ghee in a pressure cooker and add whole garam masala and rice,then fry for 5 minutes.
Add Cashew and resin to the rice.
Add Sugar and salt and add warm water to it and mix well.
Close the lid of the cooker and keep till one whistle.
Now after opening the cooker add Keora water and serve hot.
Footnotes:
Water should be measured in the same cup used for measuring rice.