Rui Macher Dim Er Chechki (rohu Fish Eggs With Potato)
Fish eggs have always been a delicacy in Bengali homes and during season the catch has good eggs in them.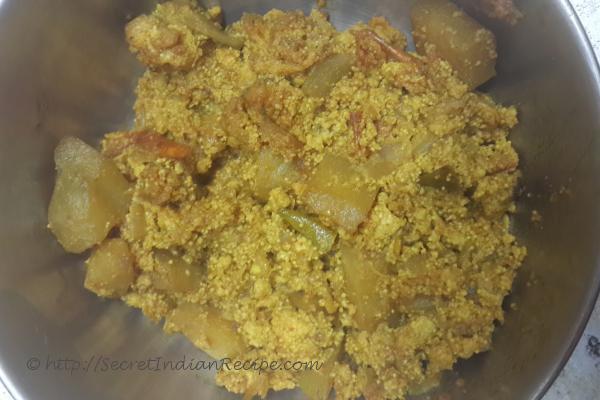 Ingredients:
Rohu fish eggs - 250 gms
Potateos - 2 big (diced)
Onion - 1 (chopped)
Tomatoes - 1 (chopped)
Green chilles - 2 (chopped)
Mustard oil - 1 tablespoon
Garlic - 1 clove (smased)
Turmeric - 1/4 tablespoon
Chilli powder - 1/4 tablespoon
Salt - 1/2 tablespoon
Water - 1/2 cup
Corainder Leaves - 1/4 cup (chopped)
Directions:
Wash the fish eggs properly in a bowl and drain the extra water.
Smash the whole lot of the eggs lightly with your hand
Add a pinch of turmeric and salt and keep it aside
In a wok, heat the oil till smoking and then cool it in sim
Add the smashed garlic clove and let it splutter
Add the chopped chillies and onions and fry till the onions are golden brown
Add the potatoes and fry. Add turmeric, salt, chilli powder and cook for 5 - 10 minutues, till the potatoes are half cooked.
Add the tomatoes and stir fry again till the tomatoes are soft and pulpy.
Add the fish eggs in the wok and stir softly but quickly.
Add water and let it simmer for 10 minutes.
Garnish with chopped coriander and serve
Footnotes:
Chilli powder or green chillies may be used as per taste
Garnishing depends upon individual choice. I did not have coriander so I served it as it was cooked.
Fish eggs , like normal eggs have a tendency to stick to the bottom. It is advised to keep stirring in between to avoid burning.
Other Indian Recipes that you may Like !