Rungeeli Thandai Rasmalai
Rasmalai with Thandai flavour and topped with colourful syrups and nuts.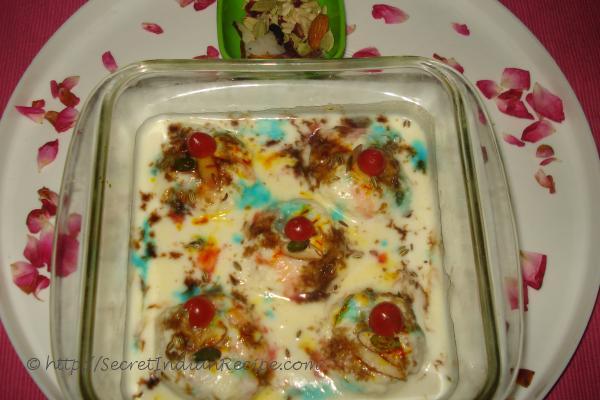 Ingredients:
5 home made Paneer rasgullas
1litre full fat Milk
¼ cup powdered Sugar
few strands of Kesar (saffron)
¼ tsp saunf
For the Thandai: 6 almond; 1tsp saunf; 3 to 4 peppercorns; 2tp khus-khus; a pinch of elaichi powder; a few strands kesar (saffron); ¼ cup milk;
To –garnish -2tsp blue curagao, rose syrup ,(glazed cherries, soaked saunf as required )
Chopped Pistachios and Almonds
To Decorate platter -fresh rose petals.
Directions:
Soak the almonds, saunf, peppercorns and khus-khus in warm water for 2hours.
Peel the almonds and drain out all the water.
Dissolve the saffron in a little warm milk. Mix all the ingredients and grind to a fine paste using the remaining milk. Keep aside.
Put it together: Squeeze the syrup from the rasgullas. Discard the syrup and keep aside.
Boil the milk with the sugar and reduce to half the quantity. Add the thandai paste to the milk and cook over low heat for five minutes. Cool it completely.
Keep aside. Add the rasgullas to the Thandai milk and refrigerate Thandai Rasmalai for 3 to 4 hours for all the flavors to mellow.
Garnish with saunf, blue curagao, rose syrup, chopped pistachios, almonds and kesar . serve chilled. Decorate platter with fresh rose petals.