Rustic Homemade Chicken Manchurian (chicken In Garlic Sauce)
I absolutely love Indian Chinese food and chicken Manchurian is my all time fav... Well this recipe of chicken Manchurian is slightly different. I had this variation of chicken Manchurian in Goa ages back. Now I know Goa does not serve the best Chinese food, but for some reason I ended up loving this unique style of chicken Manchurian. I actually don't know if we can call it Manchurian, but the Goan shack did on its menu.. it's more like an indo-chinese style garlic chicken gravy!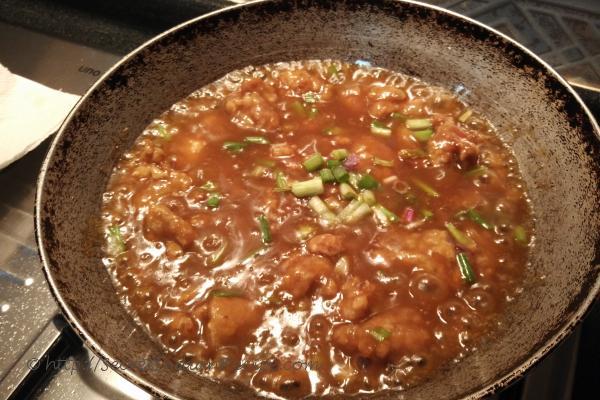 Ingredients:
For Chicken Cubes
Chicken thigh Cubes : 200gms
Cornflour: 5 Tbsp + Rice Flour 1 Tbsp
Water to make slurry
Salt to taste
Pepper to taste
1/2 Tsp soy sauce
Oil for deep frying
Egg for coating
For Sauce
Spring onions finely chopped : 1/2 Cup
Spring onion greens finely chopped: 1/2 cup
Garlic finely minced: 1 Tsp
Ginger finely chopped: 1 Tsp
Thin Soya sauce: 3 heaped Tbsp
Thick Soya sauce: 1 Tbsp
Chili vinegar: 1tbsp
Hot water 1 Cup
Cornflour slurry 3tbsp
Vegetable oil for cooking: 4tbsp
Directions:
In a bowl take cleaned and de-skinned chicken thigh cubes. Add Pinch of salt and 1/2 Tsp pepper powder, 1/2 tsp light soya sauce and 1/2 tsp garlic paste. Mix and leave to marinate for 15 mins
Meanwhile mix corflour and riceflour and remove in a plate, in a bowl break one egg and whip it
Heat oil for deep frying. Take one pc of chicken thigh cube, dip in egg then coat with the flour mix, dip in egg again and coat with flour again (dipping and coating needs to be done twice for each pc)
Then release the chicken cube in hot oil. Do this for all pcs individually.
Cook for 5 mins and remove. The pcs need to nice and crisp. If pcs are big cook for 10 mins, if too small cook for 5mins.
Now in a separate wok or kadhai, heat 5 tbsp oil, add minced garlic and ginger mix well. Add the onions followed by chili vinegar. Give it a mix.
Cook till the vinegar looses its raw smell. Now add in the thin and thick soya sauces, mix well, cook for a min and add water
Let everything cook, when it starts to boil pour in the slurry to thicken the sauce, add the fried chicken pcs and salt to taste
Cook for 5 mins on low flame, finally add 1 tsp sugar and mix well
Turn off the flame and serve hot with plain or fried rice.
Footnotes:
You may add more veggies if you wish
When you fry the individual pcs of chicken fry only one first and wait for it to cool. If you feel its not crispy enough then add more rice flour to the flour mix.
Other Indian Recipes that you may Like !