Sabja Seeds Rose Milk
Sabja seeds Rose milk is flavourful milk. This rose milk is an easy to make cooling refreshing drink. sabja seeds and rose syrup are known for their cooling properties. you can also add some ice cubes to the drink.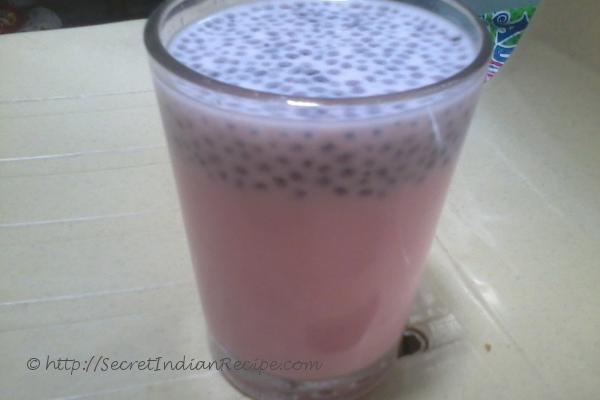 Ingredients:
Chilled milk-2 cups
Rose syrup -3 tbsp
Rose water-1 tsp
Sabja seeds/sweet basil seeds-1 tsp soaked in enough water
Sugar-1/2 tsp or add as required (optional)
Directions:
In a bowl add sabja seeds with enough water soak for 15 to 20mins. Afterwards strain the water & keep aside. 1 tsp sabja seeds gives about 2 tbsp of soaked sabja seeds.
Take another bowl add chilled milk. Then add rose syrup and mix it well till it dissolves in the milk. Add sugar as required. Sugar is purely optional.
Then add rose water and mix it. Finally add soaked sabja seeds in it and mix it again.
Pour the milk in the glasses and keep in fridge till serving.
Footnotes:
You can add some ice cubes.
Add almonds, cashews or rose petals as toppings.