Sabudana Cutlet (sagoo Dumplings For Fasting)
Sabudana cutlet has been my favorite since childhood. I remember how I and my younger brother used to keep fast in "Janmashtami' just to eat tasty preparations like sabudana cutlet, paneer pakora, Sabudana khichdi and roasted cashew. In those days, keeping fast was also a fun for us. My mother and Aunti would make sabudana cutlets and we used to sit in queue and compete who can eat more…Today also we make it on Janmastami and during " Navrathri'.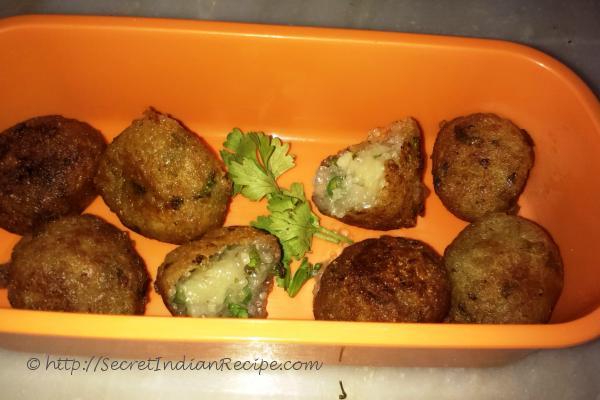 Ingredients:
Sabudana (Sagoo) -100 grams
Boiled Potatoes – 4 potatoes
Green Chillies – 3-4 pieces
Green coriander leaves – 1 bunch
Sendha namak (Fasting salt) – as per your taste
Singhara ka atta (Buckwheat flour) – 4-5 tablespoon
Oil for Frying
Directions:
Put the sabudana in a bowl and add 2 cups of water. Keep it aside for 1 hour.
In the meantime mash the boiled potatoes in another boil. Add chopped green chillies and coriander leaves.
After an hour, drain the excess water from the sabudana and then pour it in the bowl containing mashed potatoes.
Add the sendha namak and then mix thoroughly with hand.
Now spread the buckwheat flour on a plate……Normally we use bread crumbs or besan or corn flour for outer layer of the cutlet, but since this recipe is made for fasting we use buckwheat flour. If you are making the recipe as a snack, then you can replace buckwheat with refined flour or corn flour.
Take small portions from the sabudana and potato mixer and make cutlets…..If you are a novice then I would suggest you to make small cutlets as sabudana is very sticky and if you make big sized cutlets, handling it while frying can be tedious.
Once you finish making the culets, roll them over the buckwheat flour to avoid sticking.
Now heat the oil and put the sabudana cutlets in batches. Fry till they become golden brown.
Serve hot with tea and roasted peanuts.