Sabudana Fingers
A typical Maharashtrian snack which is made during the festival/fasting days. This is made with mashed potatoes mixed with sabudana and crushed peanuts which makes a great tea-time snack.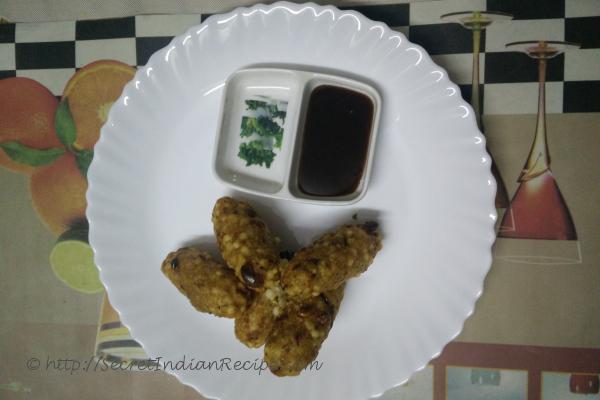 Ingredients:
1 cup Sabudana soaked
2 Medium sized boiled Potatoes
3/4th cup roasted & crushed Peanuts
1 tsp lemon juice
1 tsp Red chilli powder
1/2 tsp Turmeric powder
1/2 cup minced Coriander leaves
Salt as per taste
Oil for frying
Directions:
In a bowl take 1 cup soaked sabudana.
Peel off the skin of the boiled potatoes and mash them.
Mix the mashed potatoes with sabudana.
Add 3/4 th cup of roasted and coarsely grounded peanuts in sabudana and potato mixture.
Add lime juice, salt, turmeric powder, chilli powder and coriander leaves.
Mix all together properly. Take small parts of it and shape them like fingers.
Heat oil in a frying pan, fry the fingers till light brown.
Serve them hot with imli (tamarind) chutney.