Sabudana Khichadi
This is one of my family's favorite dish. My mother never added water to the dish but somehow her's always came out soft. I add a little water to get it to be soft.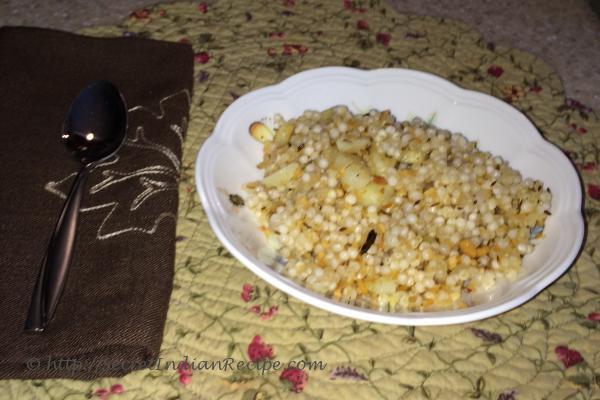 Ingredients:
1cup sabudana/ sago
¼ cup ground peanuts
Fresh green pepper chopped finely –to taste
1/4tsp ground black pepper
Salt to taste
1/4tsp whole cumin seeds
3tbsp dalda or shortening
Directions:
Wash the sabudana and set aside.
Peel and cut potato in small cubes
Heat the dalda in a sauté pan and add the cumin seeds
Now add the potatoes, green chili , black pepper and salt and stir to mix.
Once the potatoes are cooked add the sabudana and stir well to mix.
Cook on low heat stirring occasionally so that it does not stick to the pan.
You may sprinkle little water if needed to cook the sabudana. (see tip)
Footnotes:
Sprinkle very little water or the sabudana will become sticky