Sabudana Payasam (sabudana Or Sago Pudding)
The sabudana payasam is a sweet dish of Mangalore cuisine. In North India, it is famously called sabudana kheer but unlike in north, the sabudana payasam is cooked in coconut milk instead of dairy milk. The coconut milk adds a distinct flavor to the payasam. Traditionally jaggery is used to add sweetness and is garnished with roasted cashews and raisins. Here, in my recipe I have used sugar syrup but you can use jaggery.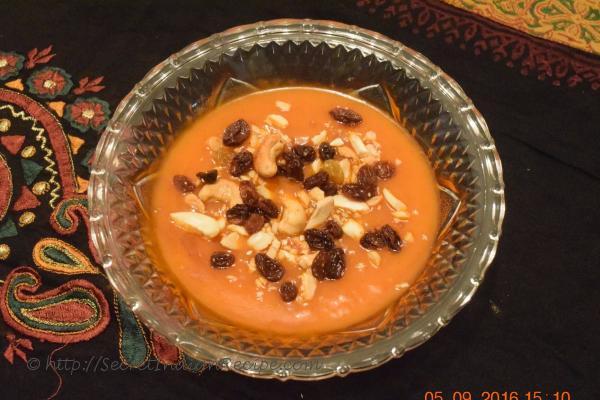 Ingredients:
1/2 cup soaked sabudana (washed, soaked and drained)
1 tbsp cashews
1 tbsp raisins
1/2 cup sugar syrup of single thread consistency
1 cup grated coconut
1/2 tsp edible food color or 2-3 strands of saffron
1 tbsp Desi ghee
3 green cardamon pods (peeled, crushed and powdered
Directions:
Add the grated coconut mixture in a mixer/blender. Warm 1/2 + 1/3 cup of water in a microwave at high for 1 minute 10 seconds. Pour it over the grated coconut in a food processor/ blender and let it rest for 5-8 minutes.Grind the mixture at high pulse for 2 minutes. Strain the mixture in a bowl / cup using a mesh strainer. You will get coconut milk in the bowl / cup. This is the first extract coconut milk (Coconut cream).
Return the remaining coconut in the mixer/blender again and add 2/3 cup water in the mixer. Grind it to a smooth paste. Strain the mixture in separate another bowl. This is the second extract coconut milk (Coconut milk).
Heat ghee in a pan and fry the sabudana till they become transparent and pale. Take it out on a plate
In the same pan, saute cashews and raisins for 3-4 minutes on low medium flame. Keep aside.
Mix the sugar syrup and coconut milk in a bowl. Heat a pan and pour this mixture into it, stirring continuously. Add fried sabudana and cook till the milk mixture comes to a boil.
Add first extract coconut milk/cream. Add cardamon powder. Continue cooking on simmer for 10 minutes or till the coconut milk mixture reaches the required consistency of a pudding. Add saffron or edible food colour.
Simmer on low heat for 5 minutes more. Transfer it into a serving bowl and garnish it with fried cashews and nuts.
Footnotes:
You can also prepare the payasam without the soaked sabudana. Boil 1/2 cup of water and add 1/2 cup sabudana (washed 2-3 times) into it and cook for 4-5 minutes or till the sabudana turns pale and transparent. Mix it then with sugar syrup or jaggery mixture. However fried sabudana in ghee gives a special flavor to the pudding.