Sabudanyache Vade/ Sabudana Wada ( Fried Potato And Sago Dumplings)
Sabudanyache vade is a tasty breakfast dish. It is also a popular evening snack with tea.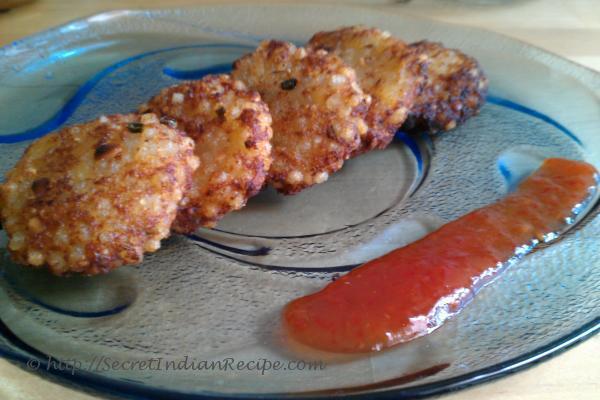 Ingredients:
4 boiled Potatoes
1 Cup Sago ( Tapioca)
Salt to taste
1 Tsp Cumin seeds
2 Tsp Coriander finely chopped
2 to 3 green chilies finely chopped
3 Tsp coarse peanut powder
1 Tsp Lemon juice
½ Tsp Sugar
Oil to fry
Directions:
Wash sago with plenty water and drain it completely. Keep sago over night it will increase in size till next morning. In a bowl mash the potatoes, add the sago, peanut powder, cumin seeds, coriander, chillies, salt and sugar. Mix well. Add lemon juice and make small round dumplings and press to flatten a little. If the mixture sticks to your palms rub a little oil before making the dumplings
In a kadhai, heat oil and start deep frying the sago potato balls. Fry will deep golden brown colour. Serve with green coconut chutney.