Sabudanyachi Khichadi (sago Mix)
Sabudanyachi khichadi is a tasty breakfast dish. It is also a popular evening snack with tea.
It is a special dish eaten on days of fasting.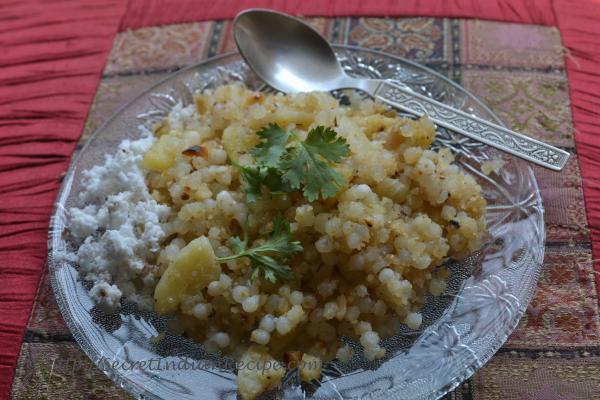 Ingredients:
1 cup sago
1 boiled potato
2 tblsp crushed peanuts
1 tsp cumin seeds
2 chopped green chillies
salt to taste
pinch of sugar
1 tblsp oil
chopped coriander and crushed coconut for garnishing
Directions:
Wash sago with plenty water and drain it completely. Keep sago over night it will increase in size till next morning. Add peanut powder and mix it well.
In a pan, Heat 1 tblsp oil, add cumin seeds, green chillies to it. Cut the boiled potato into small pieces and add it in the pan. Mix it well.
Add the sago and peanut powder mixture into the pan and stir till everything mixes well. Add salt to taste and a pinch of sugar.
Garnish it with chopped coriander and crushed coconut. Serve it hot.