Sabut Masoor Aaloo Ki Subzi (lentils And Potato Stir Fry)
This was actually a warm salad that I prepared once. But it was totally bland. I then converted it to a recipe with Indian spices and somehow it became a quick fix curry at home. And the fact that masoor dal was less cruciferous and both the lentil and potatoes mashed together was edible to my baby made this a regular dish at home. We often have it with fried fish or chicken as a whole meal because we are trying to refrain from rice. Potatoes are carbs and lentils proteins hence it is a filling meal even if you cut down rotis and rice. Plus filling it in a roll with some mayo and ketchup makes it a very authentic Indian style kathi roll too. Do not skip the dill leaves it gives an awesome flavour.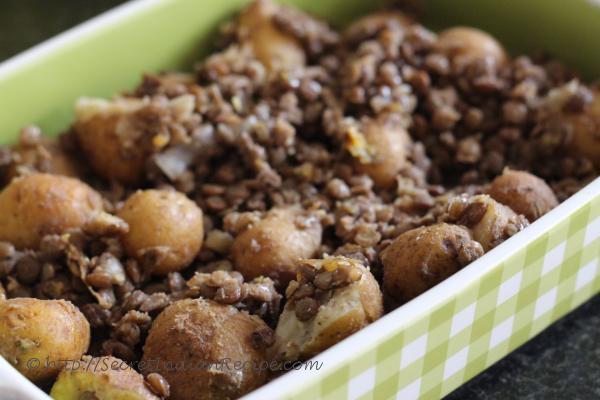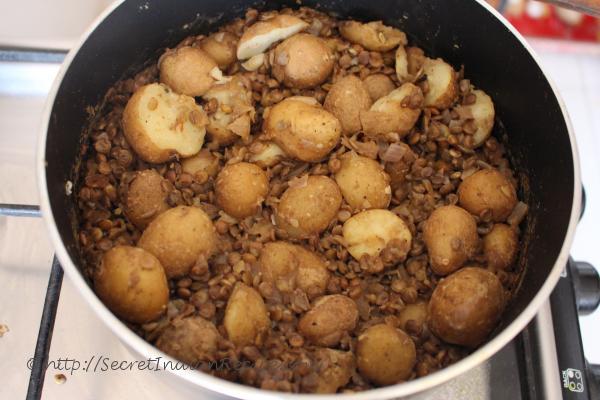 Ingredients:
Sabut Masoor- 1 cup
Baby Potatoes- 10
Cumin seeds- 1 tsp
Garlic- 10 cloves
Shallots- 10 cloves
Pepper powder- 1 tsp
Salt- to taste
Turmeric powder- 1/4 tsp
Green chilies- 6
Oil- 3 tbsp
Dill- for garnish
Directions:
Wash and soak the dal for 30 mins. I like the potatoes with skin on so I scrub them thoroughly.
Boil the potatoes first for 15 minutes with salt and 2 cups of water. Poke the potatoes when half done and then you can add the lentils and cook for 15 minutes.
Heat oil in a pan and add cumin seeds. Once the cumin splutters add the minced garlic and shallots and saute till they brown.
Now add the slit green chilies and boiled lentils and potatoes. Add all the spice powders and stir the ingredients for 2-3 minutes. Garnish with dill and serve warm.
Other Indian Recipes that you may Like !