Saeb Oats Kheer (apple And Oats Pudding)
Is it not amazing the variety of kheers we prepare as Indians? In the South of India especially Kerala we have two kinds of kheers or payasams as we call them. One version is milk based and the other jaggery-coconut milk based. I have started experimenting with new kinds of kheers recently for my daughter. Not that we don't enjoy these experiments with her but the motivating factor to try these recipes is her. My daughter was not warming up to drinking milk and I wanted her to have 500ml cow's milk daily and then the idea of kheer came to me. My kiddo was also underweight so lavishing some ghee and sugar on her felt like an awesome idea. I had a free sachet of oats lying around so I added it to this kheer though the recipe I referred to does not recommend this. Hope this will be a refreshing idea to some of you.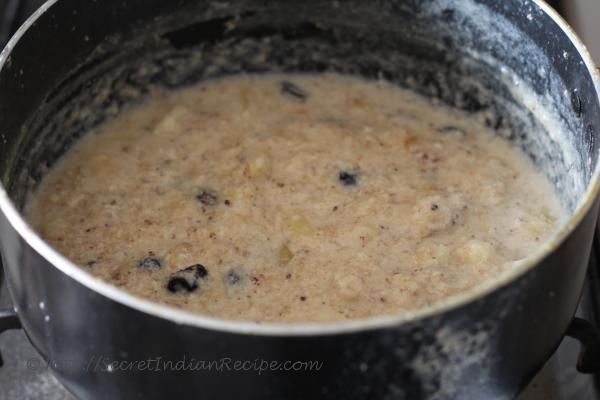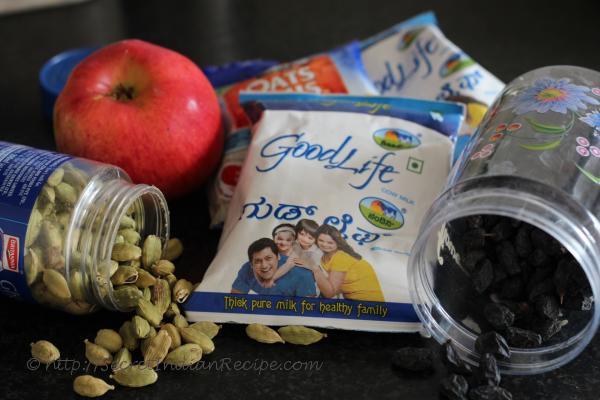 Ingredients:
Grated apple- 2 cups
Oats- 50g
Milk- 500 ml
Sugar- 100g
Cardamom powder- 1 tsp
Ghee- 3 tbsp
Raisins- 6-10
Water- 1/4 cup
Directions:
Peel, core and grate the apple finely. I chopped it the first time but it was tough for the kid to swallow so second time I grated.
Heat ghee in a pan and fry the raisins first. When the raisins puff, transfer them to a plate and start frying the apple till it is golden.
Powder the cardamom and sugar together. If you are using cardamom powder omit this step.
Add water to the sauted apples and let it cook for 5-10 minutes. Now add milk and oats and bring the kheer to boil.
Keep stirring so that the oats does not get lumpy. Add the powdered cardamom and sugar and stir the kheer for 2 minutes.
Bring to final boil and garnish with raisins. Serve chilled, it tastes awesome.