Saffron & Beetroot Zarda Pulaav
#ValentineSweet..Zarda Rice is very famous north Indian sweet dish.. authentic Zarda Rice make in saffron color with lots of saffron flavour but for Valentine's special twist ..I made it in two color with no use of artificial color.. saffron for yellow and red for beetroot..taste heavenly and garnish it with freshly made Home made mawa..yuuummm..sounds interesting..have a look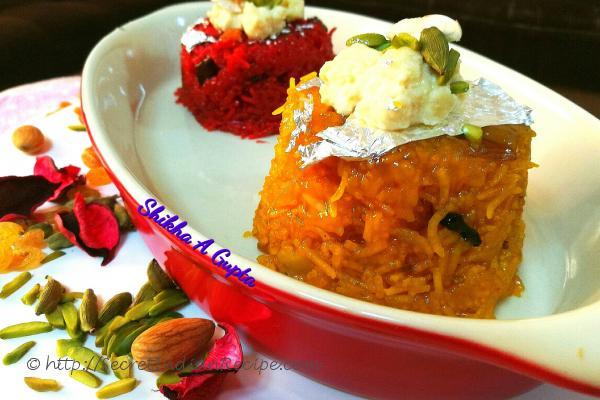 Ingredients:
1 cup rice washed and soaked in water for at least 1 hour..
4 tbsp ghee
8-10cloves
2 bay leaves
3/4cup sugar
Dry fruits
2 tbsp sliced almonds
2 tbsp sliced pistachios
2 tbsp chopped cashewnuts
1 tbsp raisins
For yellow color
1tsp saffron
For red color
1 small beetroot peeled and grated
3 cup or 2.5 times of rice cup water..
6-8 cardamom
For garnish
Fresh mawa
Silver leaves or vark..
2 tsp kewara water
One secret ingredient is love..I used unlimited..
Directions:
First washed and soaked rice in water..first we do yellow Zarda Rice preparation
Heat 2 tbsp or half of total ghee add 4 cloves bay leaves and half of nuts but not pistachios and fry it in ghee add saffron and water.. ket it boil
Add 1/2of total rice and sugar add 1 tsp kewara water and 4 cardamom seeds..
Now keep it stirring till all water dry up and rice become soft.. switch off the flame..now we do red Zarda Rice preparation
Heat remaining ghee in a pan add bay leaves and cloves add all remaining dry fruits like almonds cashewnuts raisins
Add grated beetroot and water..let it one boil..add remaining sugar and rice..let it cook till rice become soft and all water dry up..
Add kewara water and cardamom seeds..mix well.. switch off the flame .
Garnish it with fresh mawa silver vark and pista sliced..best Valentine's surprise for your love once .. serve hot or cold your choice..
Other Indian Recipes that you may Like !